By Alex Cummins –
As the number of school days dwindle, a lot of students are looking for their reading material for the next three months of warm weather. For most, this is a long awaited vacation from school and many students enjoy reading throughout the summer.
Thanks to the help of Diane Bounds, Penn Manor librarian, what could be better than a list of five of the most popular books within Penn Manor. For avid readers that might not be 100 percent sure about what books to keep them occupied during months of summer here's a list that might help some out.

The Hunger Games
This young adult novel was written by American television writer and novelist  Suzanne Collins.  It is written in the voice of 16-year-old Katniss Everdeen, who lives in a post-apocalyptic  world in the country of Panem where the countries of North America once existed. The Capitol, a highly advanced metropolis, holds power over the rest of the nation. The Hunger Games are held annually and one boy and one girl ages from 12 to 18 from each of the 12 districts around the Capitol are selected by lottery to compete in a televised battle until only one person is left.
Divergent
Candor (the honest), Abnegation (the selfless), Dauntless (the brave), Amity (the peaceful), and Erudite (the intelligent) are the five factions that society is divided into within Chicago. On a certain day every year, all 16-year old's have to make a decision on which faction the teens will devote the rest of there lives to. For Beatrice Prior, the decision between staying with her family or going with who she really is is tough and the end result surprises everyone, including herself. During the highly competitive initiation that follows the decision making, Beatrice has trouble determining who her friends really are and where a relationship she's in with a boy fits into her new life. Tris also has a secret that she has kept from everyone and it can even mean death if its revealed, but she realizes the secret could help save the lives of her loved ones.
Sarah Dessen books
The Sarah Dessen books are not a series and are all stand-alone novels. There are 10 novels that Sarah Dessen has written herself that include a ton of topics that all ages can relate to but these are mostly for girls. The books range from topics about love, divorce, heartbreak and a lot more.   A few of the books are listed below:

What Happened to Goodbye, Along For The Ride, Lock and Key, Just Listen, The Truth About Forever, This Lullaby, Dream Land, Keeping The Moon, Someone Like You, and That Summer
Abraham Lincoln, Vampire Hunter
Indiana' 1818. With moonlight falling through the dense woods that surround a one-room cabin where a nine-year-old Abraham Lincoln kneels at his dying mother's bedside. Only later will the grieving Abe learn that his mother's fatal affliction was actually the work of a vampire. Gifted with his legendary height' strength' and skill with an ax' Abe sets out on a path of vengeance that will lead him all the way to the White House. Abraham ends up living with a vampire who tells him that there are good and evil vampires. Abe gets trained to kill vampires by his helpful blood sucking friend. From start to finish Abe goes through heartbreaking moments and fierce intense battles, all in revenge for his mom and others that he loses along the way.
Courtesy of Amazon.com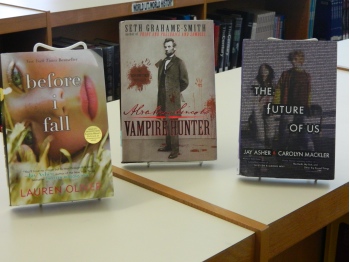 Before I Fall
What if you had only one day to live? What would you do? Who would you kiss? And how far would you go to save your own life?
Samantha Kingston has it all: the world's most crush-worthy boyfriend, three amazing best friends, and first pick of everything at Thomas Jefferson High—from the best table in the cafeteria to the most ideal parking spot. Friday, February 12, should be just another day in her charmed life.
Instead, it turns out to be her last.
Then she gets a second chance. Seven chances, in fact. Reliving her last day during one miraculous week, she will untangle the mystery surrounding her death—and discover the true value of everything she is in danger of losing.
Courtesy of Amazon.com
Honorable Mention: The Hobbit, The Future Of Us
"The Hunger Games is so popular here at Penn Manor that there is a waiting list for the books," said Bounds.
Bounds also stated that their will be movies coming out soon for Abraham Lincoln, Vampire Hunter, and The Hobbit.
And of course The Hunger Games is currently in theaters.