By Brady Charles and Daulton Parmer –
The 2012 NFL Draft will be hosted April 26, in New York City at the Radio City Music Hall. This draft is like no other. Many experts say this draft's potential is the best. Ever.
"I think this year's draft is going to be insane, I can't wait to see how everything pans out," said junior Adam Sahd.
One question all the experts are asking, will the Colts take Andrew Luck, or Robert Griffin III?
"I don't think you can pass up a quarterback like Andrew Luck, he has all the attributes you need in a quarterback," said Sahd.
Also in the draft is Penn Manor alum, Chas Alecxih. Alecxih graduated from Penn Manor in 2006, and earned his stripes at Pittsburgh University where he was named First team All-Big East his senior season.
Here's what we project in this years first ten picks.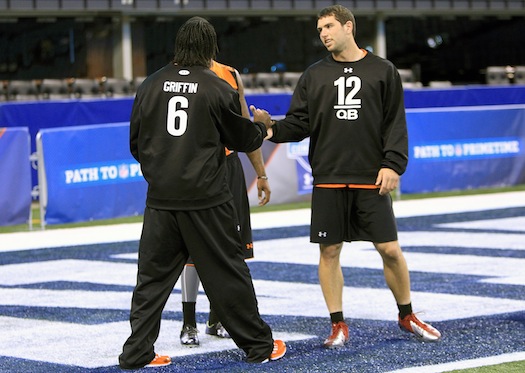 Top 10 Projections
1. Indianapolis Colts- With the loss of legendary quarterback Peyton Manning the Colts need a franchise quarterback. The Colts are most likely to select Stanford Quarterback Andrew Luck.
2. Washington Redskins- With a disappointing year, nowhere near qualifying for the playoffs, the skins need a turn around player and there is no better person for the job than Baylor Quarterback Robert Griffin III.
3. Minnesota Vikings- The Vikings need some more protection in the trenches, they're looking to get Offensive Tackle from USC Matt Kalil. But, don't be surprised if a team in need of a Quarterback trades up to snag Ryan Tannehill from Texas A&M.
4. Cleveland Browns- The Browns lost their star running back this past offseason, with Peyton Hillis battling injuries all of last year, the Browns traded Hillis to Kansas City. The Browns need to fill the empty spot in the running back position, the Browns can;t pass up Alabama star Running Back Trent Richardson, who is arguably the most talented player in the draft.
5. Tampa Bay Buccaneers- If Cleveland decides differently and decides not to go with Richardson, Richardson could fall to the Buccaneers, but if not the go to pick for the Bucs is standout Cornerback from LSU Morris Claiborne.
6. St. Louis Rams- The Rams are lacking a playmaker, down field threat. Wide Receiver Justin Blackmon from Oklahoma State is exactly the guy for the job. His size and speed will make him one of the best receivers in the NFL and a perfect player to cause match up problems with.
7. Jacksonville Jaguars- Draft experts say South Carolina Defensive End Melvin Ingram's 'short arms' could effect his play in the NFL, but he can help a team in so many facets of the game, he's hard to pass up.
8. Miami Dolphins- With multiple players failing to succeed in the Quarterback position, Dolphins are in need of a commander. Ryan Tannehill from Texas A&M is a good pick for it, he will need some experience first before he is a big name Quarterback.
9. Carolina Panthers- The Panthers are in need of a defensive stopper, the pick is a toss up between Memphis DT Dontari Poe , or Fletcher Cox DT from Mississippi State. 
10. Buffalo Bills- The Bills number one priority is to protect Ryan Fitzpatrick, they are looking at an Offensive Tackle if they can't re-sign Demetress Bell. So, it looks like the Bills will be selecting Riley Reiff, from Iowa.
Now taking a look at the Philadelphia Eagles and the Pittsburgh Steelers, both teams coming off disappointing seasons in which they had multiple key players sidelined due to injuries. During this offseason, the Steelers lost veteran wide receiver Hines Ward to retirement, and still have yet to sign their star receiver Mike Wallace. While the Eagles resigned receiver DeSean Jackson, and left tackle Jason Peters is out for the year with a torn right achilles. Both teams now are in desperate need of talent in the 2012 draft.
15. Philadelphia Eagles- Coming into the offseason, the Eagles number one need was the linebacker position, but with the signing of Texans Linebacker DeMeco Ryans that position is filled. The second need is the defensive tackle spot. Depending on what the Panthers go with, the Eagles could scoop up the leftovers. The Eagles will either get Dontari Poe, or Fletcher Cox.
24. Pittsburgh Steelers- Coming into the draft, the Steelers General Manager Kevin Colbert has been characterized as never being able to turn down pure talent even if it's in a position they aren't in need. Relying on Colbert's characteristic look for the Steelers to take the top talent left in the draft which could be tight end from Stanford Coby Fleener, or Alabama linebacker Dont'a Hightower.