By Joey Jackson –
Our economy may be on it's way back up, but the students here at Penn Manor are still finding ways to curb their spending.
One of the ways students have come up with is to advertise.
Much like the old advertising method of the "sandwich board," some students here at Penn Manor have been using their bodies to promote Central PA Tuxedo, a tuxedo rental store that has been largely used by Penn Manor seniors to get their tuxedos for their prom dances.
Three Penn Manor seniors used this style of advertising for the tuxedo seller last week by wearing different types of tuxedos to school for all of the student body to see the quality of tuxedos available if you choose to rent from Central PA Tuxedo.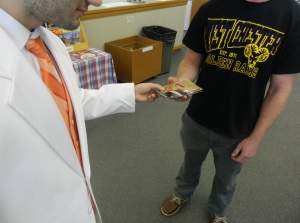 The students, in return, will receive a free tuxedo rental for their own Prom night.
"It was really nice just to do a little bit of work and get a free tux out of it," senior Dylan Weber said, a nearly $60 investment for other students.
Not just anyone could advertise for Central PA Tuxedo, however. Senior Landon Alecxih, who had represented the store before, was only able select two other classmates to model the tuxedos with him that day. Senior classmates David Mohimani and Dylan Weber were lucky enough to be selected by their friend.
The experience didn't come off entirely as work to the seniors though. Instead, some almost enjoyed their day in the tuxedo.
"I felt like a boss wearing the tux," said David Mohimani, a senior that modeled a white tux for Central PA Tuxedo last week.
It wasn't all fun and games for the students, who had to take unexpected time to prepare for their day in the tuxedos.
"It didn't take that long to get sized for the tux but the drive from my house in Pequea to the shop in Centerville took a good amount of time," said Weber.
On top of the time out of their day, the seniors biggest concern was focusing on not getting a mark on their tuxedos.
"I didn't even eat lunch that day because I didn't want to risk spilling my Gatorade on my white tux," Mohimani said.
But the seniors had a job to do, and they needed to hand out about 50 flyers throughout the course of the day to rather unwilling people.
"I never would have guessed how badly people wouldn't want a flyer," Weber said. "I mean it's not that big of a deal to just take a flyer."
One person was even so emphatic on not receiving a flyer that he slammed it back onto the desk of the unsuspecting Mohimani.
At the end of the day though, each boy handed out all of their flyers, fulfilling their job for the day and earning them the free tuxedo rental. Which, the students will admit, was the only reason they did it in the first place.