By Ian Noll –
If you missed LeSean McCoy at the mall this past year, here's your second chance to meet him.
Eagles running back LeSean McCoy will be traveling down to Penn Manor for a football camp that will run June 25-27. It will be open to kids from ages 8-16 for $250 per person.
LeSean "Shady" McCoy, has been with the Eagles for three years and is originally from Harrisburg, Pa. McCoy went to college at the University of Pittsburgh and was drafted by the Philadelphia Eagles in 2009. He has quickly become a fan favorite and become a key factor in the Eagles offense.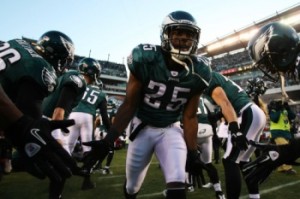 "McCoy will be working all three days of the camp and will be bringing with him other NFL players, I can't give you the names but people he played with in Philly and at Pittsburgh," Mealy said.
According to the Mealy, the goal of the camp is to teach fundamentals but more importantly it is for the campers to learn how to select role models and how to become responsible members in their communities. Each day, McCoy and fellow coaches will take a portion of the camp to talk to the campers about life lessons and making the right decisions. This has been a focal point when it comes to playing for Penn Manor for football.
McCoy had been looking to start doing camps out in the community and picked 3 schools, Bishop McDevitt (where he graduated), Penn Manor and one located in Philadelphia.
The coaches hope that this camp with McCoy will be a reoccurring event, which could potentially bring more attention to the football program and help the up and coming players receive an experience that will stick with them.
So, if you are interested in attending the camp, and are between the ages of 8-16 please email starcitysports1@gmail.com or Coach Mealy, todd.mealy@pennmanor.net.