By Aaron Brown –
This year's Masters champion has never taken a lesson, has no swing coach, and hits a pink driver off the tee.
"All I can say is this is awesome," said new father Bubba Watson in an interview with ESPN. "Winning the green jacket is great — I can pay for all the diapers I'm going to have to get."
Penn Manor golfers were impressed with Watson's win.
"Fellow lefty, been a fan since I watched him play in 2007. Awesome to see him finally win a major after coming close before," said Mark Dano, junior golfer at Penn Manor.
"He is a mismatched golfer, but a perfect fit for winning," said Will Welsh, senior golfer at Penn Manor.
To most, Watson looks nothing like a typical golfer. He stands at a whopping 6′ 3″ and has long wavy hair, but now there's no mistaking the fact that Watson can rule the course.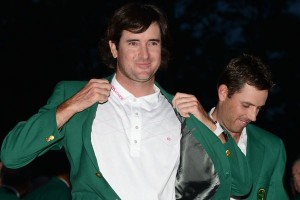 The 2012 Masters win is Watson's first major of his career.
Every Masters champion has their "shot heard round the world." Watson's shot was his second shot on the second playoff hole. His drive ended up in the pines on the right, which created a very hard, almost impossible shot.
Watson saw a gap that many other players would not have seen. He stepped up to the ball and put a 40-yard hook on the ball that ended up on the green.
"My caddie has always called it Bubba golf," Watson said, according to Bloomberg, of his untraditional style of play after receiving the ceremonial winner's green jacket yesterday at Augusta National Golf Club in Augusta, Georgia. "That's why we play the game of golf, to pull off the amazing shot."
"Where I stood from when the ball came out, it looked like a curve ball going to the right," Louis Oosthuizen, Watson's playing partner on Sunday, marveled in the same ESPN article. "An unbelievable shot. That shot definitely won him the tournament. To see the shots that he takes on, shots I don't really see or I would ever hit, it's very entertaining to play with him."
Anyone who watched any of Watson's tee shots, might have noticed his pink driver.
The driver is part of a year-long campaign sponsored by Ping. Every time Bubba drives the ball over 300 yards, Ping will donate $300 dollars to his charity. At $300 per drive for his first 300 drives over 300 yards — that's a lot of 300s — Watson stands to rack up $90,000 for his foundation, just for doing what he always does.
When most pros pull out a fairway wood or long iron, Watson pulls out his lovely pink driver. When most pros play by the philosophy of "play it safe," Watson plays by the philosophy of "grip it and rip it."
"He has unbelievably long distance and has a great swing for never taking a lesson," says Welsh.
Watson's family life has had its ups and downs as well.
Watson's wife, Angie, told him on their first date that she would not be able to have children.
His father died just after the Ryder Cup in 2010, from throat cancer.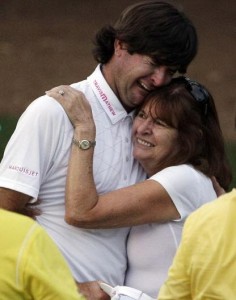 He admitted fighting himself throughout the day on Sunday, battling his mind as it wandered elsewhere. He thought about his father, his wife and son. He wasn't fighting back bad swing thoughts or anything about his game, he said. Instead, his mind wandered to his family, far away from Augusta.
Watson and his wife are now parents after adopting a 0ne-month-old boy, named Caleb, two weeks ago.
Watson was very emotional, for many reasons, on the 10th hole green after sinking his putt to win. His mother was the first onto the green and Watson wrapped his arms tightly around her and cried some more.
"After he won, he didn't go crazy celebrating," said Dano. "He embraced his mom and cried. Those are the types of things that are inspiring."
Watson is the perfect man to win this year's Masters because he loves the game of golf almost as much as he loves his wife and son.
"I don't play the sport for fame. I don't try to win tournaments for fame," Watson said. "I don't do any of that. It's just me. I'm just Bubba. I goof around. I joke around."
"Golf isn't about having the most skill or the best swing," said Dano. "It's being able to keep your head in it and just score well enough so that at the end of the tournament you have a chance to win. You're going to hit poor shots, but Bubba had the ability to never play himself out of the tournament early on. On Sunday, he was in contention, made something happen, and walked away a winner."