By Ryan Flexman and Taylor Skelly –
There is no family duo in Penn Manor faster than junior Cooper and sophomore Greta Lindsley.
The 2011/12 season for girls cross country was led by sophomore sensation Greta Lindsley, while the boys swim team was led by her big brother, Cooper Lindsley. It's rare enough to have an athlete as dominant as them individually, but it's even more rare for them to be siblings.
Cooper finished off the season by placing fourteenth in the state in the 100 freestyle and having the best 100 free time in the Lancaster Lebanon League. In the "off-season," Cooper's success only continues as he as already qualified for nationals for the second straight year while swimming for the Diplomat/Lancaster Family Y Swim Team.  As well, Cooper has led both his school and club swim teams in points in the previous seasons.
Greta placed eighth in the state level run, which was the only race that she hasn't won since her high school career began.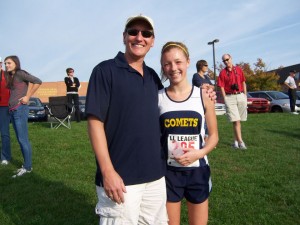 "When I'm bored, unlike most kids, I run for fun" said Greta.
She also said that lately she has been working harder than usual, because she believes she can still get better. Greta wants to be the first girl in Penn Manor history to break a five minute mile, even though she already has the mile record under her belt. She needs to drop ten seconds off her own record to break the five minute mark.
"I haven't really spent much time on the college stuff yet, but Syracuse or UNC have always been at the top of my list" said Greta,
who will be participating in a running camp in Colorado, and plans on running in multiple marathons when she's older.
Clearly, both Greta and Cooper are incredibly gifted athletically, but it is their work ethic and positive attitude that allow them to rise above their competition, according to their coaches.
"He [Cooper] is focused, and he definitely does work hard, I think he has some pretty specific goals in mind," said Penn Manor swim team Coach Cece O'Day,  "And he knows what it is going to take to reach those goals and is willing to pay that price."
On top of that, they have a support system at home in parents Todd and Heather Lindsley that pushes them to always be their best. Both parents attended the College of William and Mary and were successful athletes. Todd, who received a full ride, was a runner and their mother, Heather, played field hockey.
"I know I wouldn't be where I am today if he wasn't there pushing me," said Greta."