By Blake Wales and Brandon Bowers –
People all over the world have joined together, earlier this month, to raise awareness of poverty by participating in one simple task. Participants went through the entire day without shoes, but students here at Penn Manor High School, being prohibited from going barefoot through the halls, instead wore flip-flops instead to symbolize their participation in this event.
For children across the world who suffer from intense diseases that affect them in many ways from not wearing shoes, the matter is life and death.
Following the five-day Easter break, the principals here at Penn Manor instituted the flip-flop rule, but some students decided to come to school barefoot so they could get the full experience, regardless of the consequences.
Senior Abby Talbot decided to go ahead and take the challenge of going the full day barefoot regardless of the dangers.
"I really wanted to see what it was like to live your life without shoes," said Talbot.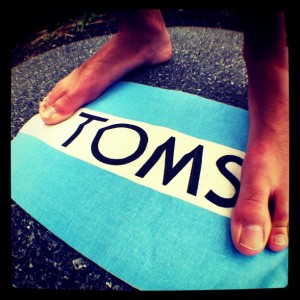 Abby almost made it through the entire day until she had to put her shoes back on to drive because it is illegal to drive without shoes in the state of Pennsylvania.
About a quarter of the people asked said that they participated in this event in some way. For most it was by wearing flip flops and others by actually going barefoot. They went through the struggles of walking cautiously to they didn't step on sharp objects or other hazardous things that are around.
Some students on the other hand either decided to not participate in this event just simply because they forgot. Senior Kevin Brubaker was one of the Penn Manor students that was not apart of this day.
"I honestly forgot about this day, plus I didn't really feel like going all day without shoes. I don't even go bare-foot through my house," said Brubaker.
Along with Penn Manor there were many events and gatherings all around the world in major cities such as New York and Los Angeles. Also in countries through most continents like Europe, Asia, South America, and many others. These events consisted of people rallying together collecting money to donate, walking through cities trying to draft people into their crowd to help spread the awareness.
According to the One day Without Shoes website,  more than 4 million people suffer from Podoconiosis which is a debilitating and disfiguring soil-based disease that tampers with the immune system. This happens in countries like Mexico, the northern regions of South America, eastern Africa and even some parts of Europe.
There is another disease called Hookworm which is common in Mexico, southern regions in Africa, and also in Asia. Some 740 million people are affected by hookworm which can cause intestinal pain, weakness and cognitive impairment. More than 30,000 people live on one landfill in the Philippines, where many are without shoes and are exposed to broken glass, syringes and debris.
All the students that participated and went fully barefoot stayed true to the commitment and finished the rest of the school day shoeless.