By Blake Wales and Sam Valentin –
Imagine living life without a proper pair of shoes and having to worry about the hazardous and dangerous objects that could injure you or inflict diseases. Some people own five different pairs of shoes or maybe even more collecting dust in a closet. But those who are too poor for shoes walk in danger every single day.
This may be really irrelevant to many Americans who don't worry about this simple luxury that most people take for granted every single day.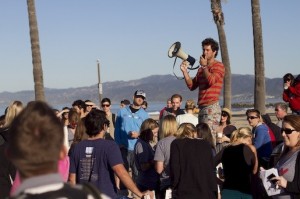 For children across the world who suffer from intense diseases that affect them in many ways, just from not wearing shoes, the matter is life and death.
People all around the world and here at Penn Manor are working towards change by joining an effort called One Day Without Shoes which is designed to raise money and bring awareness to the situation.
To join in the effort, people are actually going through a normal day with one little alteration – they will all be without shoes on April 10.
This whole concept was created by the TOMS shoe company but was really brought to Penn Manor by students in the Young Humanitarians Club.
One of the club members, Emily Peris, skipped this event last year but decided that it would be good to participate this year.
"We were originally going to try to make money off of it [for Honduras] but we could not do that. So we have the option to donate to our club," said Peris."There are just a lot of kids that are less fortunate."
According to the One day Without Shoes website,  more than 4 million people suffer from Podoconiosis which is a debilitating and disfiguring soil-based disease that tampers with the immune system. This happens in countries like Mexico, the northern regions of South America, eastern Africa and even some parts of Europe.
There is another disease called Hookworm which is common in Mexico, southern regions in Africa, and also in Asia. Some 740 million people are affected by hookworm which can cause intestinal pain, weakness and cognitive impairment. More than 30,000 people live on one landfill in the Philippines, where many are without shoes and are exposed to broken glass, syringes and debris.
But that's not all.  There are 1.8 million Kenyan children who are infected by jiggers, burrowing fleas that cause painful infection.
Penn Manor will not allow students to go barefoot but they will be allowed to wear flip flops.
"I really feel that a lot of students will participate and we will  get the awareness of this out,"  said Penn Manor Junior Mackenzie Payne.