By Jay Jackson-
There are many things people want to do before they die and never get around to doing them. It is four guys' mission to do as many as possible and at the same time help people do theirs.
Brothers Jonnie and Duncan Penn and their friends Dave Lingwood and Ben Nemtin have their own MTV show which is called the Buried Life and now, they are breaking into to writing.
This quartet of boys, now men, have changed peoples lives all over the nation.
"Our goal was to give people the feeling that you can do anything," says Jonnie Penn, 25. "We started with that. We scribbled down the ones that moved us … Some are sad, some are hilarious, some are scandalous. We wanted to get that balance."
This group of guys want to prove that anything is possible and you shouldn't settle. This mission has had them cross off 80 of the 100 things they wanted to do before they die.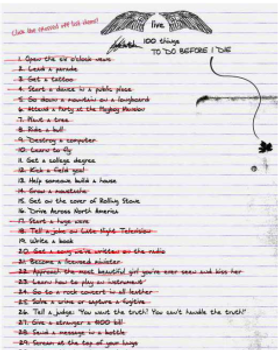 They've crashed a wedding, making a toast to a mystified bride and groom. Survived four days on a deserted South Pacific island, and possibly the most stunning: they played basketball with President Obama on the court in the White house.
"We added it to the list because we knew it was going to be almost impossible," says Lingwood. But through good old Washington lobbying, they eventually got the ear of the president. "He liked that we helped people."
This book and TV series is designed to get people thinking. The group of guys don't just try to cross out things on their bucket list, They also help people do the things that they want to do .
"We try to help people achieve what they might need," says Lingwood, who earlier this month was lured to Georgia's Kennesaw State to urge students to help a classmate who needs a kidney transplant. The request came through Facebook, where the men have 1.25 million fans, people they call "Community."
The Buried Life helps as many people has they can achieve their goal.
"I really want to go skydiving when I get older," said Kara Overmyer as she pondered about her own bucket list.
This new book is appropriately called "What Do You Want to Do ."
Sales are expected to be a success just like the MTV series that is entering there third season.
"I want to watch a baseball game in every major league  stadium in the US," said Austin Richwine, a Penn Manor senior and the starting center fielder for the Comets baseball team.
The boys really think that the book is for everyone.
"To be honest, this is a book for more than just fans of the show," Penn says. "This is for anyone who's ever going to die one day. It also tells a bit of our story going from depressed college dropouts to meeting Oprah and starting The Buried Life on MTV."
The book is in stores right now. Maybe it could help someone get motivated to cross a couple things off their bucket list before they get buried.