By Taylor Skelly-
Don't put all your winter clothes away yet.
After an unusually warm and dry month of March, much of Penn Manor has swapped their blue jeans and hoodies for khaki shorts and t-shirts, disregarding the fact that according to the calendar, and Rita's, spring has just begun.
However, local meteorologist Eric Horst, who is the Director of the Weather Center at Millersville University, says that last week's hot spell with temperatures in the 70's almost every day was nothing short of an anomaly.
"This week will be a reality check," said Horst.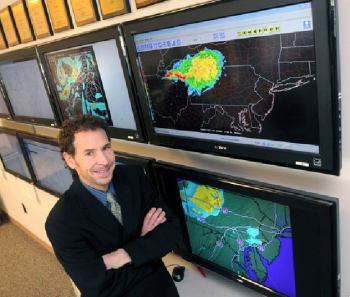 As April approaches quickly, expect to see a wide range of weather as summer becomes closer. Instead of experiencing an entire week of high temperatures, there will  only be days that are consecutively warm. On the contrary, below seasonal temperatures will most likely occur as well.
"April will be more of a roller coaster, it won't be as consistently warm as March was," said Horst, " The jet stream will be more progressive, things will be more variable."
For some students at Penn Manor, the thought of cooler weather creeping back into the forecast is enough to make them cringe.
"I'm sick of the cold," said junior Harrison Schettler, "When it's warm it's just nice to be outside, it makes track so much more enjoyable."
I think a lot of people felt like summer was finally here, you saw a lot of people driving around with their windows down, sunroof open said senior Marc Summy.
"I spent a lot of time shooting basketball in my driveway, playing with my dog in the backyard, I even worked on my tan a little bit," said Summy.
And for others, the news of cooler weather coming back is exactly what they wanted to hear.
"Of course I love the summer and the hot weather, but it's not even April yet, I like that transition phase too," said junior Adam Hess, "Personally, I would get sick of having summer weather for six months out of the year."
"Weather" you're for or against the warmer weather, expect April to be a fresh reminder that the summer is still an entire season away.