By Ian Noll –
Time to wash your hands, this year's Final Four is chalky.
The four remaining teams of the 2012 March Madness Tournament consist of the heavily favored Kentucky Wildcats, Louisville Cardinals, Ohio State Buckeyes and the Kansas Jayhawks. All of the remaining teams are 1,2, or 4 seeds.
After this weekend's games, another favorite, UNC, who played without star guard Kendall Marshall, was knocked out by Kansas. Syracuse also fell to the hands of the Buckeyes, which was expected by most since 'Cuse had been playing without key center Fab Melo.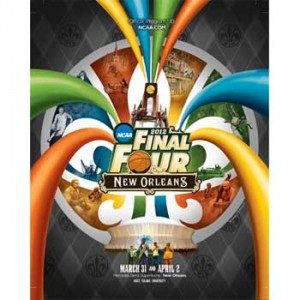 "There's no "madness" this March," junior Matt Hatch said referring to this year's Final Four.
(1) Kentucky vs. (4) Louisville
According to ESPN's Myron Medcalf, the big men will reign in New Orleans and with Kentucky's Anthony Davis matching up against Louisville's Gorgui Dieng, it's not a case of David Vs. Goliath, it's a case of Goliath Vs. Goliath's twin brother. Both are the country's best shot-blockers, each with an average of over three blocks per game, and are key post players on offense.
As for the outcome of the Kentucky-Louisville game, expect the Wildcats to control the game. Louisville might come be coming in on train full of momentum, but Kentucky is just too powerful of a team, scoring 102 on Indiana, and defeating every single team in the tournament so far by double digit points.
It's time John Calipari gets his National Championship, and he has the team to do it. Especially with Center Anthony Davis leading the charge.
"It's obvious Kentucky is the favorite, they will end up winning it all,"  science teacher Erick Dutchess said.

Putting all uni-brow jokes aside, Anthony Davis is not a force Louisville wants to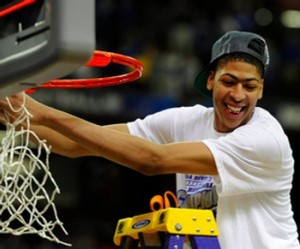 reckon with.
(2) Ohio State vs. (2) Kansas
As for the other game, Ohio State will be matching up against Kansas in a "battle of the 2 seeds."
Ohio State will be lead by returning forward Jared Sullinger, who had returned as a sophomore to win a national championship. Sullinger is surrounded by a  team that has the potential to do it, especially with their top 10 ranked perimeter defense.
But Kansas can match that defense, and also has a team full of talent. Lead by Thomas Robinson and Jeff Withey, Kansas could potentially have a rematch with Kentucky in the national championship. Kansas just doesn't rely on one player, it's the whole team that shows up and plays, which means Ohio State has to worry about every player to step on the court.
"I like how Ohio State is playing, I think that they will be able to top Kansas," junior Mark Dano said.

The games will be played in New Orleans on March 31st, with the national championship game that following Monday.
Make sure you tune in Saturday, these games are something not to miss.