By Taylor Skelly and Daulton Parmer –
The girls soccer team hit the ground running with two good results to begin their season.
They opened  the season with non-league play by visiting the Wilson Bulldogs under the lights  Friday night and and hosting the Daniel Boone Blazers Saturday afternoon, earning good results in both games.
Against Wilson the lady comets jumped ahead early when senior  captain Logan Kramer scored unassisted five minutes into the game. Ten minutes later, junior captain Lindsay Hutchinson made a great hustle play, taking the ball from one of Wilson's defenders  and then followed it up with a bit of trickery, dribbling by the keeper and passing the ball into the goal. However, Wilson fought their way back into the game by scoring off a rebound from a break away save from junior goalkeeper Stacey Groff, and finishing a penalty kick.
The teams headed into the locker room at halftime tied two-two.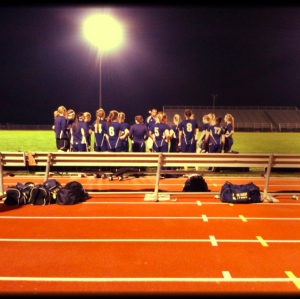 Two minutes into the second half senior Elisa Ott crossed a ball into Kramer, who slipped it past the keeper, putting the Comets ahead. However, with a little under 10 minutes left in the game, Wilson responded with a goal of their own, leveling the score for the final Friday time. Even after two 10-minute, sudden death overtimes, the score remained even resulting in a hard-fought tie.
Though the girls prevented a loss, they weren't satisfied with merely a tie.
"We didn't play to the best of our ability, and we need to break our habit of being a "second-half" team," said Hutchinson.
Saturday afternoon the Blazers of Daniel Boone brought rain showers and that was about it.
In the first half of the match the Comets controlled much of the game, earning a decent number of opportunities to score on offense and limiting their opponent to minimal chances of their own.  Senior captain Sara Bennis kept the back line tight and organized. In the second half however, the Blazers couldn't seem to find an answer for senior captain Logan Kramer, who completed every soccer players goal, a hat trick.
"I was able to get some good opportunities, and the ball found the back of the net," said Kramer, "That's the way it goes some days."
The girls will have little time to enjoy their weekend success, because they begin league play with Elizabethtown, Manheim Township and Conestoga Valley this week.