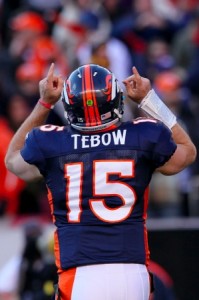 By Aaron Brown –
Poor Tim Tebow. With the Manning Sweepstakes over, is Tebow next?
Tebow has just been "thrown" out of his starting spot by Peyton Manning, What's next for Tebow?
"I wouldn't say I feel bad for him," said Robert Ayers, a defensive end for the Denver Broncos, according to ESPN.  "It's a business. And I'm pretty sure Tim understands that. … We wish him luck, no matter what he does. I hope he's here. He's a great leader, a great locker room guy."
"I don't understand why people do not believe statistics," said Cody Straub, a huge Tebow fan at Penn Manor. "He went 7-4 as a starter last year with a playoff win over Pittsburgh. Quarterbacks are judged on winning, right?"
The Broncos signed Manning for five years for 98 million dollars, making him the highest paid player in the league based on annual salary.
One option he could have chose was to sit the bench and learn from one of the greatest quarterbacks to ever play in the NFL, National Football League. This option would be a very good learning experience for Tebow, but will keep him off the field for at least five years.
"I know what kind of player Tim Tebow is, what kind of person he is," Manning said, according to Chicago Sun-Times. "What an awesome year he had this year. If Tim Tebow is here next year, I'm going to be the best teammate I can be to him. He and I are going to help this team win games."
Another option for Tebow was for him to get traded and start another sweepstakes for a very winning quarterback. There were already teams that are eying up Tebow. The possible sites for the next "Tebow Time" are Jacksonville, Cleveland, New England, New York, where he got traded to, and Miami.
"If other opportunities present themselves to him, I'm going to wish him the best," said Manning."He's going to be a great player wherever he is."
"I really want Tebow to go to Buffalo," said Brad Snyder, a junior at Penn Manor, before he was traded. "He make a huge difference in ticket sales and winning games."
Now fans in New York will always be yelling "Tebow Time".
With Tebow, comes hard work, a great leader, and a winning tradition, both in college and professional football.
"Tim Tebow is a great kid. If I want someone to marry my daughter, it would be him," John Elway, executive of the Broncos and two time Super Bowl winner with the Broncos, according to Chicago Sun-Times said. "But I think with the opportunity to have Peyton Manning's services, we had to take advantage of that. Now that it's happened, we have to go back and address Tim and see what the best situation is for the Denver Broncos, as well as him."