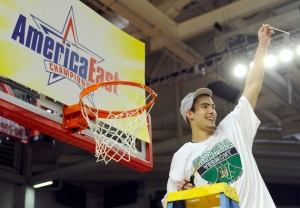 By Brady Charles, Jordan Rineer & Daulton Parmer

A local kid is livin' the dream.
From being a Dallastown Wildcat to a Vermont Catamount, Patrick 'Four' McGlynn IV, led his team to the 2012 NCAA tournament.
"It's crazy to believe I played him last fall," said Jaq Presbery, a former Penn Manor basketball player.
"I've never played anyone with such quick feet, you cannot stop him. All you can do is try to slow him down, but that still never works. He can do so many different things during a game, he's insane," said Presbery.
In the 2010 Messiah Shootout, Penn Manor faced off against McGlynn and his Dallastown squad. McGlynn had his way against the Comets, scoring at will and carried his team to victory.
According to University of Vermont Men's Basketball page, McGlynn averaged 24 points a game his senior year at Dallastown, along with five assists and four rebounds.
Besides being some 450 miles away, not much has changed in 2012 for McGlynn.
McGlynn led the Catamounts in scoring his freshman year (12.0 ppg), along with being named American East Rookie of the Year.
"It's crazy to see him on the TV playing against some of the best teams in the nation (North Carolina)", said Marc Summy a senior basketball player at Penn Manor who has a close relationship with McGlynn.
"We played AAU ball together, his dad coach's my team, at one point we played together on a weekly basis in a church league. It's good to see him playing so well at the D1 level," said Summy.
The Catamounts won their first round match-up against Lamar University in the NCAA tournament 71-59, McGlynn led the Catamounts in scoring with 18.
Two days later, McGlynn tried to rally the troops and upset the number one seed North Carolina. The Catamounts fell to the Tar Heels 77-58, which ended a successful freshman year for Mcglynn.
The Catamounts finished the year 24-12 and won the American East title.
McGlynn has a lot of scouts talking about his game, the common word of mouth is with hard work put in on his ball handling, he could make the step to the NBA.
"He's not a normal freshman," said Vermont head coach, John Becker.
Confidence is one thing McGlynn always carries with him, it's something that makes him.
Not a normal freshman.