By Alex Cummins and Brad Kruger –

The boys' tennis team is looking to have a learning and rebuilding season. Since last year, the tennis team lost their top five players. With an already tough league for AAA tennis.
"We lost our entire starting line up and our top seven players due to graduation," said coach Jon Boxleitner
This year the format for the entire league has been changed. The Lancaster – Lebanon League is switching to the college format with four singles and three doubles. Last year the format was five singles and two doubles.  The team has actually had two matches already. They played at Red Lion and had a home match against Pequea Valley. Unfortunately they lost both.
"Its going to be difficult for us but the kids are working hard and we're going to pick up some wins here and there if we can," said Boxleitner.
There are going to be a lot of tough competitors for the Comets this year. Their section is one of the toughest with some of the best teams around.
"There's always what I call the big 4, and they are always good… and those schools are Manheim Township, Hempfield, Cedar Crest, and Conestoga Valley, so those schools are always at the top, and usually Township is our toughest team to play," said Boxleitner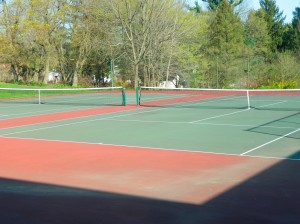 Ian Tahmasbi, a junior tennis player for Penn Manor said that everyone on the team has to work hard every single day at practice. Everyone on the team wants to win every match but the boys  just need to have some more training. The team agreed, saying they have the best coach that they possibly could with Boxleitner leading them everyday.
"We have to work hard every single day if we want to get a win," stated Tahmasbi.
"Jake Shiner and Troy Diffenderfer along with some others are looking really solid at practice and in matches," said senior and first year player, Tyler Smith.
"They've done some really nice things in the off-season and now they are our one and two players," said Boxleitner