By Connor Hughes and Jake Shiner –
It's not everyday an all-time great is looking for a new team, but Peyton Manning is on the market.
The Super Bowl winning, record breaking, injured neck, golden boy is up for grabs for whichever team can reel him in.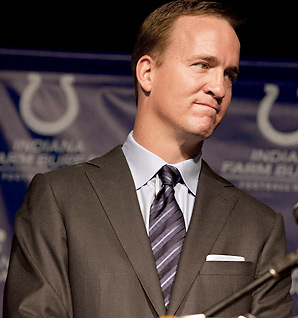 Manning has had meetings with Broncos, Cardinals, Dolphins and Titans officials.
Students and alumni alike don't know where the future hall of famer will go, but they certainly have their opinions.
"Arizona, because Kevin Kolb isn't good and Peyton Manning is one of the best to ever play the game," said Penn Manor alum Jessen Smith.
Kolb had only a measly 9 TD passes in his 9 games played during the 2011-2012 season. (8 INT's)
"As a Colts fan, I believe he will go to the Broncos because he is supposedly impressed with their organization," said avid Indianapolis fan Harry Manning. "Or maybe the Dolphins because he has a house in Miami."
Miami is a very likely possibility.  Already has a house there, perfect weather, what's not to love?
But what about his home town, Tennessee?  The Titans have one of the best running games in the league and a new coach who's ready to win as soon as possible.
"He'll go to the Titans because he played college football for Tennessee and he loves it there," said Hartley.
There are many possibilities for Manning.
So why isn't every NFL team trying to acquire him?  Well, there are a few question marks with the new free agent.
First and foremost, his health.  Peyton Manning started every single game for 14 seasons straight. That being said, he didn't take a single snap for the Colts last season.
Manning has had a series of neck surgeries, and has only recently started throwing the ball.
What will happen when Dwight Freeney comes full-speed at his former teammate, seeking revenge for the years of untouchable practices?  Will he be able to take a hit?
Only time will tell, but a group of NFL teams aren't too concerned.
Each team has pros and cons:
Broncos
Pros – John Elway.  One of the best quarterbacks to ever play the game.  He runs the show in Denver, and he seems to be fed up with running/quarterback Tim Tebow.  He will let Manning run the offense the way he wants.
Also, their defense finished a respectable 11th overall in total yardage given up.
Cons – No star wide receiver, terrible weather.
Cardinals
Pros – One of the best wide receivers in the league, and a head coach who is used to older, already accomplished QB's. (Kurt Warner)
Cons – Suspect defense.
Dolphins
Pros – Not too many compared to the other competing teams
Cons – They just traded their best receiver, Brandon Marshall, to the Bears.
Tennessee
Pros – Manning's hometown, they have a great run game and a good enough defense.
Junior Ian Noll agrees that Tennessee is the best option for the currently team shopping Manning.
"Titans, because Vince Young era was awful," said Ian Noll. "Also, Manning is better than Hasselbeck. They are already making the right moves with their new offensive line signings."
Many teams are trying to convince Peyton Manning to play for them, but the one thing for sure is that wherever he signs, he will absolutely make a huge, positive impact.