By DaYonte Dixon –
Nowadays it seems like good deeds go unrewarded, but Penn Manor is challenging that statement.
With a simple rocking chair.
Former librarian of Penn Manor High School, Susan Hostetter, retired last year and, to mark a long career of her great service to the school, including keeping the library organized and in good shape for the students, her colleagues decided she should be remembered in a special way.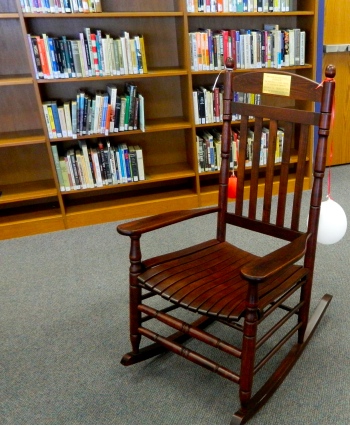 A beautiful wooden rocking chair was donated from former Penn Manor English teacher Carole Shellenberger to the library in Hostetter's name.
"I was overwhelmed and surprised when I first heard," said Hostetter, referring to the rocking chair that was donated in her honor.
The rocking chair is currently sitting in the library and, although not currently in active use, it is covered in balloons and decorations and is on display for everybody to see.
"Any student is allowed to sit in the chair that has been dedicated to Hostetter," said library assistant Barbara Trostle.
Hostetter was a key part of the Read-a-Thon celebration that took place at Penn Manor High School library every year to encourage younger children to read.
According to newly hired librarian Diane Bounds, Hostetter would bring a rocking chair to every Read-A-Thon.
"I think she deserved the rocking chair," said library assistant Pam Yarnell. "She played a huge role in the Read-A-Thons."
The chair is symbolic of reading and enjoyment of books, something the Read-A-Thon has been promoting to increasing success with district youngsters.
About 12 years ago Hostetter and teachers Amy Wall and Shellenberger started Penn Manor's Read-A-Thons.
According to Hostetter, during the Read-A-Thons there were stations. At one of these stations was the rocking chair where a guest speaker would read aloud to a crowd.
"I honestly love rocking chairs," said Hostetter "rocking is such a soothing motion."
Hostetter dedicated 17 meaningful years to Penn Manor High School before retiring.
Since the retirement is so new, most students do not know the meaning of the rocking chair.
That simple rocking chair holds a lot more meaning.