By David Mohimani –
The party you've only dreamed about.
That's the slogan for Warner Bros new creation – Project X, but in reality it might be the party in your parent's worst nightmare.
The trailer has a quote that says this movie is basically a mix between Superbad and the Hangover.
The movie follows a group of lovable losers led by main character Thomas Kulb. Thomas' best friend Costa is a sex obsessed teen from Queens who convinces Thomas to throw a huge party for his seventeenth birthday.
A party that turns them from second class students to the most popular kids in the school.
Thomas reluctantly agrees and the greatest house party of all time is born.
The epic party includes(but is not limited too), booze, babes, a gnome filled with ecstasy, booze, a midget, a flame thrower, a taser,booze, a police horse,moon bounce oh and did I mention booze.
Insanity ensues and everyone appears to have the time of  their lives.
The film was released on March 2nd.
The movie cost a mere $12 million to make and was filmed over the course of five weeks.
The film ended up grossing more than 20 million dollars in it's opening weekend.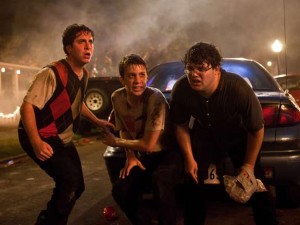 Also the name of the movie created some serious buzz. It was originally entitled Project X, but that was considered to be a working title.Then when the studio realized the title had gathered hype they decided to stick with it.
Also, all the main characters except for Thomas (played by Thomas Mann who was also in "It's Kind of a Funny Story") were acting in their first feature film.
While everyone knows it is a movie, some fear that it may give teenage kids the wrong impression.
"I think Project X is a stupid movie for glorifying partying," said senior Janelle Musser.
Even worse it may have inspired some kids to throw a crazy party.
"It was insane.It would inspire to throw a ridiculous party," said Penn Manor Senior Dylan Webber who went to see the film this past weekend.
"It was a good movie, but it didn't ruin my future expectations for future high school parties,"said senior Mitch Domin.
At the party's climax, Thomas says to Costa "Is this big enough to be cool?" He says this almost jokingly as he stands on his roof overlooking a sea of nearly 2000 kids.
Some have criticized the film saying the movie gives the impression that  all you have to do is be well liked is throw a huge party.
Screenwriter for the movie Michael Becall told The Hollywood reporter "I think we'd be disappointed if there wasn't some kind of outraged response to Project X."
Other respected publications have given it rave reviews.
Peter Travers of the Rolling Stone wrote, "Most teen flicks just fake being fueled by anarchy. But the gut-bustingly funny Project X is the real deal."
Even with the mixed reviews Warner Bros has decided to move on with a sequel to Project X, but if they will use the same cast remains a mystery.
The sequel is sure to shock,enrage and amaze viewers everywhere.