By Shadrock Kiprop –
It has the energy of a sporting event but it's filled with laughter and wise words to learn from Dr. Seuss.
The hard work of Penn Manor students and faculty have been on display for two weekends in the production of the musical, The Seussical.
"The theater crew compiled days of hard work and dedication since the beginning of  the first week of December. Since then, they have had to rehearse the play four days a week, Monday til Thursday,  and an extra all day Saturday," said Melissa Mintzer, an assistant director and house manager.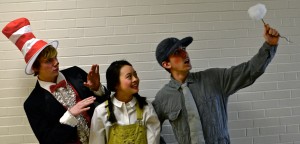 It shows.  The high energy play is filled with color and music, based on Dr. Suess's original books and short stories, many of which have already been made into full length, feature films. The child-friendly topic has triggered a huge turnout of many families, students and kids who have come and watch and also celebrate Dr. Seuss's birthday which happened last weekend.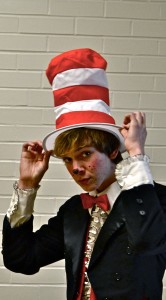 "Its great for kids (because) it's fun, exciting, and very musical show," said Sara Ricciardi, the pit director for the musical.
The Seussical was first written by Lynn Ahrens and Steven Flaherty, after their show, Ragtime, had a triumphant opening on Broadway. The musical successfully takes small parts of several previous Dr. Seuss works and weaves them into a one-hour-plus long play.
In the musical, the Cat in the Hat takes the audience on a journey through the jungle of Nool, with Horton the elephant, and all the way down to Whoville, with Jojo. On this jaunt, Horton faces guarding Mayzie's egg and saving the Whos from the sour kangaroo and the rest of the jungle creatures, while Getrude is just trying to fit in and capture Horton's heart.
Don't ever give up, use your imagination, your journey can take you to unexpected places, and that rewards can indeed be great when you are 'faithful', are all reflections that Dr. Seuss wanted to be remembered by, and many of which are represented in the amazing odyssey of the Seussical.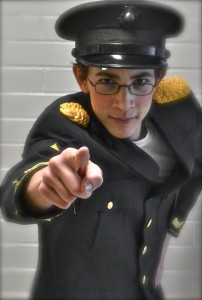 The Penn Manor theater will be presenting The Seussical, in all of its fantastic and magical grandeur, for the last time this weekend. The musical will be shown this Friday and Saturday nights in the Penn Manor auditorium at 7:30.