By Shadrack Kiprop and Brianna Kelly-
With a kind and generous heart, students could change someone's life.
A sweater can be wrapped- A bow can decorate a bicycle – one thing that cannot be wrapped is a lifesaving blood donation.  That's just the kind of thoughts that attracted students and staff to give blood during a recent drive at Penn Manor.
Sacrifice some time, give a life chance to someone by donating blood. Its simple, free, rewarding and the generosity is shown and appreciated. Blood drive donations are a generous task because, by donating blood, students are saving a life – pint by pint.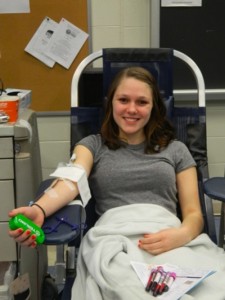 "Its a good cause and most people should do it if they can," said Emily Roberts. Roberts insisted it's an opportunity to be a hero  and to show that someone cares about them.
Many people have a unique reason as to why they donate their precious blood, according to  Penn Manor senior, Kristina Simon. Simon with compassion in her voice claims she did it for her grandmother, who had to get a hip replacement surgery after an incident that occurred at her house.
Although many people do not  donate blood because they are afraid, Comets have anchored their hearts with a reason, to give a second chance to someone.
Sam Wright, a junior at Penn Manor, walked into the band room to donate blood for the first time, her heart pounding as hard as a drum, legs shaking and trembling in fear. She sat down on the queue line waiting, eager and frightened.

The entrance fee to the blood drive is – a snack and refreshing drink. The doctor's precautions are – no recent piercings or tattoos, cannot be sick, cannot have been out of the country for the past year, and at least 110 pounds.
So, Penn Manor, don't let the chance slip away – one contribution could save a life.