By Jake Shiner and Sam Valentin-
This week the halls will be filled with the euphonious sounds of music. With a different genre each day, the students will be able to participate in the march music madness.
Each day students can join in and celebrate their favorite type of music, dressing according to the day. Monday is favorite 21st century band tee, Tuesday is 50's, Wednesday is Irish/Celtic, Thursday is Classical, and Friday is country. Participation is up to the students.
"I don't plan on dressing up, but I may do it spontaneously," said Matt Weidinger, a senior. "(But) there wasn't good advertisement for the event," he said.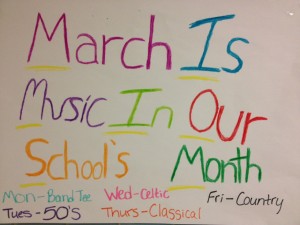 Tim Deubler, a senior, is involved with the coordination of the week long event.
"We are trying to raise awareness about music in schools, how important it is," said Deubler. "We started it last year."
He continued to explain that he and a group of others including Courtney Jacobs, Lily Ngo, and Mitch Wise are cooperating with the Tri-M Music Honor Society in spreading the importance of music in schools in light of recent school budget cuts.
"Basically it gets funding for school music programs," said Deubler. "This week isn't about the money, its about raising awareness."
Afterward they will begin fund-raising.
"[We're going to] try and have a dress down day on Friday to raise money," said Deubler.
"I wish everyone would dress up. Its fun, at least for me. I think everyone should participate."
Unfortunately some students don't share the opinion of Deubler. Joziah Rodriguez says he will not be participating and doesn't think others will either.
"I dont think as many students find it as fun as spirit week," said Rodriguez. In fact he had no clue the event was even happening this week until we told him about it.
According to Deubler, the halls will be filled with music this week. Secretary PJ Peters will be playing the music over the loudspeakers in between classes. But when interviewed, she was also not up to speed about music week and her assignment.
"No one has approved or given me music for that week," said Peters. "Last year I did play music for them, but I haven't been notified this year." Although she says she will gladly orchestrate the music if she is given the CD's. Peter's also commented that she will try to have the hallway music continue to run past Music Week.
"I'll talk to Mr. Gale and see if I can start the music in the halls again," she said.
This is to the delight of Weidinger and Deubler but not to Rodriguez.
"I like quiet in the hallway but that is just me," said Rodriguez.
Regarding the school-wide participation, Weidinger believes that Friday will be the most successful.
"I feel like country will be the biggest because it's Pennsylvania and every Friday is flannel Friday. It's the easiest and people might do it unknowingly, by accident," said Weidinger.
Penn Manor music lover should savor this week as it may be the only time we hear music again.