By Ryan Flexman-Penn Manor junior Matt Gue helped his team reach the playoffs, but can't help them any further.
"I'm already missing hockey. It's my life it's what I do and I got it taken away from me," said Gue via Twitter.
The school's ice hockey team had one of their best regular seasons this year, with a total of seven wins, nine losses and two ties. Tallying around 12 goals and 30 points, Gue was a significant part of their offense, until he dislocated his shoulder after being smashed from behind into the boards during a game.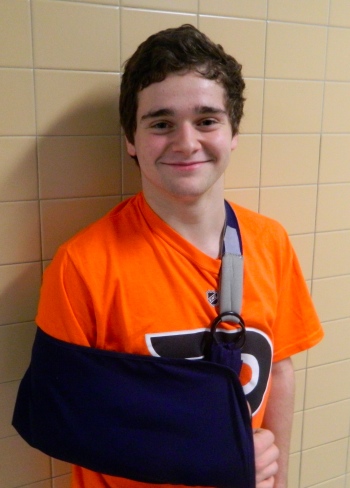 "It will be hard to miss the playoffs, especially being there to watch my team and knowing I could be helping out," said Gue.
Harder than Gue knew.
The Comets fell to  one of the league's power houses, The Warwick Warriors, in the first round of the playoffs 5 to 2.
Jason Green, one of Gues' teammates,  also noted that they had already played, the Warriors twice before with two inconsistent efforts, once with Gue and once without.
When playing with Gue, Penn Manor won 9-4, but without Gue, they lost 6-1. Gue tacked on one of his 12 goals against Warwick.
 "As you can see, Matt is a big part of our team both on and off the ice. We're really going to hurt without him," said Green.
Gue thinks his injury was "bad timing" considering he has been playing multiple sports for 12 years and this is his first athletic injury, but he's looking forward to next year being even better.
"I think if our team plays together, we could easily beat Warwick and go further than people are expecting of us. We are known for our physical play and high amount of penalties, but when we play together, we could beat anybody," said Gue before Wednesday's loss.
Not only is Gue missing all of the playoffs, but he was also invited to play in the CPIHL All-Star game, where only the best players in the league play in. Due to his injury, he was unable to participate in the All-Star game.
"Yeah I am missing the All-Star game also, and all of baseball season" said Gue, "but missing the playoffs is my biggest pain, letting my team down."
Gue received surgery on his shoulder Tuesday, and is now out of any activity for the next four to five months. The surgery took almost six hours, and it's nothing but a blur to Gue.
"When the medicine wears off, there's an excruciating pain in my right shoulder," said Gue. "But at least it's only my junior year, we still have next year to do big things."