By Aaron Brown and Ian Noll –

Penn Manor Boys Volleyball team is returning key players from last year's squad to make a run in the league, districts and state tournaments.
"Our goal this year is to put up a banner," junior Mark Dano said.
Last year, the Comets lost two seniors, Ryan Mays and Pat Navin, but the team is getting prepared to set their goals in motion, with key returning players such as seniors Dylan and Cheyenne Weber, Reagan Forrey, Marc Summy, Dayonte Dixon, Joey Jackson and juniors Mark Dano and Devon Reis.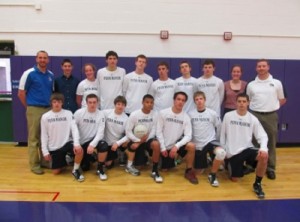 Dano said that the team is looking to be undefeated and top their powerhouse rival, Hempfield. A large part of Hempfield's success is not returning this year, which could put the Comets up as the favorite for the section.
"The better question is whether Hempfield can contend with us," Dano said confidently.
The long-time rivalry with Hempfield is a reoccurring theme for Penn Manor's boys volleyball. They face off with each other at least twice a season.
Another goal for the boys is to bring out more fans to their games. Volleyball isn't as popular at Penn Manor compared to football and basketball, but this season could change that.
"Hopefully our play will bring out more Comet fans," Dano said.
Like most sports, the home team has the advantage because of the home crowd, but if there is no one in the crowd, there is no advantage for the home team.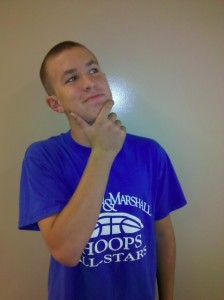 Junior Mark Dano has high hopes for the upcoming season.Photo by Kyle Hallett
"It is an honor. I've been involved with Penn Manor volleyball in one way or another–as a fan, sibling of a player, player, or coach–since its inception," said Chris Telesco, the head coach of the profound 2005 state runner-up to Hempfield, and current head coach. "So I've seen the best players and the best teams. The team I played on was one of the better teams, yet I take joy in seeing my athletes and teams raise the bar."
Penn Manor is very fortunate to have such an experienced coach. With this experience comes great knowledge of the game of volleyball.
"Our goal is nothing new – to maximize our potential," said Telesco. "We have a talented and deep team this year, so I know that this is a team that can be a league, district and state contender, but it depends on how these boys come together, how hard they work. We are in the toughest league and district in the state, so we have our work cut out for us."