By: Alex James Cummins and Alex Sorce

While lovers were busy wooing their significant other this year, one little fur ball was winning the hearts of America.
This year's annual Westminster Kennel Club Dog Show, which took place on Valentines Day, had an outcome that surprised  a lot of people across the country and at Penn Manor as well. Although not many students and teachers were watching the show due to Valentine Day activities, most people did get the chance to see which "dog" won.
There was one senior who had the chance to see and enjoy the dog show with his mother and sister.
"Yeah dude that's an ugly-a&% dog. It looks more like a foot rest than a dog," said Tyler Smith.
Malachy, an 11-pound, 4-year-old Pekingese, with his long hair flowing behind and nearly covering his tiny black triangle of a face,  the eventual winner strutted his stuff around the runway.
Here's a link to a page about Malachy's performance: http://www.westminsterkennelclub.org/2012/results/bis/
The majority of Penn Manor may not agree with the judge's decision, but sure enough Malachy was awarded Best In Show of 2012.
WOW.
What?!?!
How did THAT thing win?!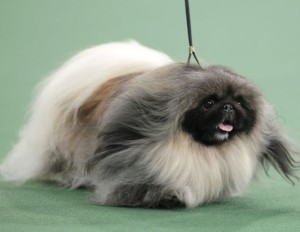 These were common remarks when students were shown a picture of the Westminster champion.
"I don't know what that's supposed to be, it looks like something from Dr. Seuss," said junior Adam Hess. Hess also said that he doesn't think Malachy is even a dog.
"Oh my gosh, no one likes ankle biters," said Brian Osmolinski, a physics teacher at Penn Manor. "Not the dog I would plan to win."
"That probably gets treated a lot better than me," said phys-ed teacher Billie Jo Atkins, not even giving the champion the respect of a gender.
"That thing looks like a mini Chewbacca," stated senior Bo Perez immediately after laughing over the picture of Malachy.
Actually, he almost died laughing.
A lot of Penn Manor students compared their own dogs to Malachy, the champion.
Along with making his opinion very clear that Malachy should not have won, Osmolinski thinks his black lab could throw the 2012 champion.
Hess said that his German short-haired pointer could have beat Malachy for the title.
"My English Bulldog, Boozer, could have easily beat that dog. My dog looks a lot better," said Perez.
"I don't pamper my dogs like that thing probably does," said Atkins.
"My dog is way better than that creature," said senior Bob Warfel.
"It's Snooki in dog form," said senior Mitch Domin
While the majority of Penn Manor thinks Malachy shouldn't have won the "hearts" of the judges this Valentines Day, there are some people who don't have a problem with this furry guy winning.
"I'm glad it won, it's pretty cute but I think it could use a hair cut," said senior Ashley Richards
"It's doesn't bother me that it won, little dogs can win too," said Atkins.