By Brady Charles and Daulton Parmer
A "hott" new start is in store for the Penn Manor Girl's Soccer program.
Jason Hottenstein.
The next heir to the throne.
Hottenstein was the assistant coach to former 'Coach of the Year' William Zapata (185-49-17) for 10 years. Zapata ended his legacy by stepping down after last season.
"I'm curious to see if the coaching and system changes will maintain the success of the girls team," said junior boys soccer player, Juan Cubano.
With two state championships since the 2002 spring season, the Penn Manor girls soccer program has built a winning tradition that has stained the hearts of the Penn Manor community.
They've established themselves as a front runner year in and year out for the state crown.
"The girls [soccer] tradition is always strong, no matter how many seniors they've lost, you still know they'll be good," said Cubano.
The coaching change isn't the only change to the program.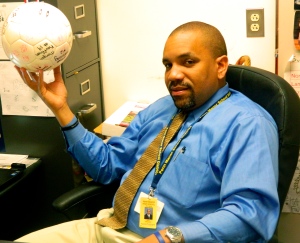 A total of nine seniors, graduated last June, putting a big question mark in the thoughts of the Penn Manor girls soccer team.
"My goal this year is to win a game," Hottenstein said jokingly about his upcoming first season as a head coach.
"But in all seriousness, I'd like to get back into the LL (Lancaster Lebanon) League final," Hottenstein said.
During a wild run in last year's postseason, the Comets took the league championship in a game decided by penalty kicks.
A month later, the Comets came up a play short in a crushing loss during the state championship match against Cumberland Valley.
The 2012 team will be led by their captains, Logan Kramer, Lindsay Hutchinson and Sara Bennis.
"We're going to have a lot of growing pains losing nine seniors and our goalie, but our three captains as well as our seniors will need to step up," said Hottenstein.
Defense has always been the backbone of the girl's team.
"We need our defense to step up this season, we lost a lot of defenders to graduation, we're going to be counting on a lot of first-year varsity players," said Hutchinson.
The defense is now playing in a flat back four formation, which is a change from the team's old stopper and sweeper style.
"The defense fits well with our personnel, the new style will open up space for us to attack, and make runs from the defense," said Bennis.
The three captains believe they can be very successful this coming season.
"I'm confident in our team and I know we can fill in our missing spots which the seniors left open after last season," said Kramer.
Will the dominating tradition continue to grow with a brand new system and a first year head coach?
The Comets will find out March 19, when the Comets begin their season at Wilson.