By Corina Connelly –
Lauren Forbes has big notes to fill as she takes on the job this year as the new chorus teacher at Penn Manor High School.
The Penn Manor music department was in search of a new chorus teacher for the upcoming 2011/2012 school year after the previous teacher, Melissa Telesco, resigned the year before.
"I'm not really sure how I got the job actually," said Forbes.  "I put my application on a teacher's website and I was called for an interview by the music department coordinator, Skip Reddig, for a job offer."
Forbes previously was a middle school chorus teacher for the Lower Merion School District outside of Philadelphia. When offered the job she had to "choose between an elementary school in Springfield or here," she said.
"I choose this job because there was so much I could be involved in than just teaching chorus, such as girls chorus, piano class, coffeehouses, and other little things that occur during the school year," said Forbes. "You can do so much more with a high school chorus then middle school."
Under Telesco, Penn Manor had an amazing, well-oiled department in place, so there was some apprehension among students at first who took a long look at the new teacher coming in to take over the familiar spot.
The students, according to Forbes were very welcoming but still attached to their prior director.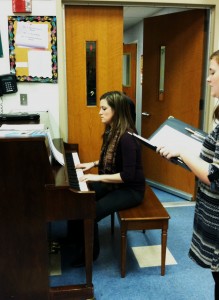 "When MT announced she was leaving, I hated the idea," said Kate Melrath, who is a current member of the chorus. "I was bitter. I felt I wasnt going to enjoy my senior year, and everyone else was the same. When she came in, we were confused but still respectful."
"I sensed a bit of resistance when I tried to get all the students involved in the plans I had for class," said Forbes. "I was a little nervous and overwhelmed. I knew I was coming into something that had been going on for a few years and it was big shoes for me to fill."
"It was hard trying to adapt to the schedule and getting into a routine that worked for the class. The students took time to respond and engage," Forbes added.
Forbes said she already has plans for the chorus.
"Id like to see the choral groups grasp and understand different styles of music, the background behind it like the history, and the dialects," Forbes said.
She said the department does have some "room to grow."
She added,"I think the students are more receptive than where they were in the beginning."
Currently the new year has been successful and going strong despite the changes. Forbes said she really enjoys the environment at Penn Manor.
"So much has changed," said Melrath. "I love her so much as a teacher, and I have learned more this past semester than the 10 years I have been apart of various choruses. Everyone loves her, enjoys her teaching now and I think we all can relate to her more because of her age."
"I have never seen a group that cares so much for each other and the teachers are like a family," Forbes said.  "It's a blessing to be a part of it."