By Alexander Lombardo –
High school's end will mark a brand new beginning for a Penn Manor girl basketball player, Alicia Ygarza.
Ygarza, the team's leading scorer, has recently signed with Eastern Mennonite University to play basketball.  Her sister, Bianca Ygarza, is currently in her sophomore year playing for the Division III school.  The sisters are ecstatic to play with one another again, and together share high hopes for Alicia's decision to sign with the school.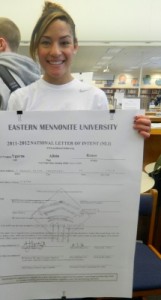 "I can't wait to go next year, because she'll have my back," said Alicia about her sister.
Alicia said she plans to work hard in preparation for the competition that comes along with playing at a college level.
"You and me are going to go ham this summer, and I'm going to prepare you for college ball, don't worry," Bianca once said to Alicia.
Bianca, one of Eastern Mennonite's most dominant players, was awarded player of the week Nov. 28 to Dec. 4, 2011. Bianca has led the Royals to a 18-3 record, and in 26 games Bianca has played a total of 14.5 minutes per game, and averages 6.8 points a game. Bianca will be a great mentor for her younger sister as she progresses through her athletic career.
During their high school years together, the sisters played very well as teammates. They gave each other the confidence and encouragement they needed to be successful in the sport.
"On the court our chemistry will be great.  We've played together for so many years, we have the same style of play,"  Alicia said.  "We're both aggressive, and we're both scorers."
Together, the two expect to be a big part of Eastern Mennonite's 2012-2013 women's basketball team.
"I'm going to get you the freshmen of the year award," Bianca has said to Alicia.
Besides the sport, Alicia is very excited to room with her sister at EMU. She will be juggling a promising singing career, along with her major in broadcast journalism. Alicia also plans to travel to Washington D.C. for internships throughout the year.