By Richard Schulz & Ryan Flexman –

Bobby Goss struggles with a st-st-stutter.
"It can't be expelled," Goss said of the annoying disability that has plagued his social life and his confidence, "It can only get better."
He has been undergoing speech therapy classes since he and his family became aware of his disorder. His parents took him to classes in his elementary school and other classes by professionals like psychologists, but discovered there is no cure for a stutter except improvement over time.
"My mom thinks I stutter because she took Tylenol when she was pregnant with me," said Goss with a serious tone.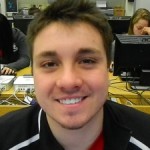 The real cause of his disorder is unknown, but started when he was two. He was not born with the speech delay.
He said other kids made fun of his stutter and that affected him when he was younger.
After ten years of being bullied for what he can't control, he has learned to just brush it off.  Goss said even people he didn't know would make crude comments to him. Thankfully he has a lot of support from friends and family.
"It gets bad when he's nervous," said one of Goss' long-time friend, Ryan Flexman. "I've teased him as a friend, but stuck up for him when he needed it."
In eighth grade, Goss was assigned to do a speech in front of his music class. He asked the teacher to do the speech in private so he wouldn't have to risk ridicule by his peers. 
Since choosing a private speech and receiving help over the years, Goss has done public speeches aloud. He still gets nervous during speeches but not as bad as before.