By Brad Kruger –
Penn Manor High School's Jason Green was chosen recently to play in the 2012 Central Penn Interscholastic Hockey League (CPIHL) All-Star game along with three other Penn Manor teammates.
Jason's biggest challenge he said has been playing at his highest ability consistently game after game, and this year he has accomplished that and it has paid off.
Green, who leads his team in points, currently has 21 goals and 13 assists, will be joined at the all-star game with teammates Kevin Reinhart, Matt Gue, and Jessie Capanelli.
"He has contributed to the team by scoring goals and has been a good leader to the younger players," said Reinhart.
Jason has been playing hockey since he was 5 years old. The sport of hockey is in his blood.
"My dad used to play," noted Green.
With several years of experience playing the game, Green has played for Lancaster Firebirds travel teams as well as Penn Manor Ice Hockey Club's middle school and varsity teams.
"The feeling of winning and just playing the game" is what motivates Green to keep playing and reach his goal, he said. Green plans to play for a D1 Club team in college.
The junior has been lighting up the scoreboard in the 2011/2012 CPIHL season this year. Playing for the Comet's he leads the team in points with 34, seventh in the league in the Comet's tier.
"I've had a good year so far and I would say it has been my best year," said Green.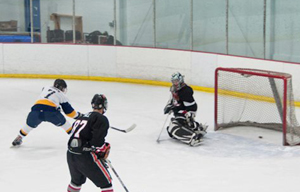 Jason's coaches have high hopes for him in the All-Star game.
"Jason's a very fun player to watch," said Penn Manor assistant coach Garth Bolin.  "He has been playing travel hockey for awhile now and has become a strong player"
His coach said he has many resources from which to draw.
"He plays well on either side of the ice and loves to score," added Bolin. "(He) has nice hands, is a great skater and can snipe goalies. I think we will see him excel at the all star game and will represent Penn Manor well, hopefully with a few goals for himself."
The All-Star game consists of two teams, each team is made up of the best players from five teams in their tier. Green's team consists of players from Warwick, Annville Cleona, Ephrata, Lampeter Strasburg and his own Penn Manor.
"The coaches from the other teams we've played and people on the league board picked the players for the All-Star game," said Green.
Most would think that when a player goes to play in an all-star game they will be playing with all strangers, but for Green its a little different.
"I'm excited to play with the other players because I currently or have previously played travel hockey with a lot of the kids on the all-star team," said Green.
The All-Star game will take place on February 15th at 8 p.m. at Twin Ponds East in Harrisburg, PA.