By Alexa Stewart –
The saying "absence makes the heart grow fonder," has been put to the test with two Penn Manor graduates.
Gretta Williams and her fiancé Luis Cruz have been high school sweethearts since they first met in chemistry class in 2008. They've been together ever since and had big plans to move in together after high school and go to college. Those plans were interrupted last May when Cruz announced to Williams he would be leaving in a month to serve his country.
"I was upset at first and worried about what would happen to us and how our relationship would change," said Williams. "After he left I was excited and proud of him for choosing to do what he did."
Cruz enlisted in the Air Force in 2011 and is currently stationed in Texas, thousands of miles away from Williams living at home in Mountville, PA.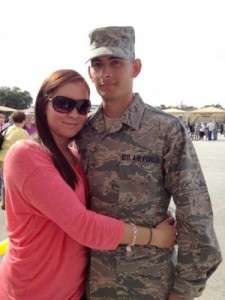 "The distance is hard at times because he's worried about me and what I'm doing and sometimes there are small pointless arguments," recalled Williams. "But him being away makes us stronger and does make us communicate more and show love more because we don't see each other everyday."
But not everything remained smooth.
The distance and stress caught up to the young couple not too long ago when they reached their breaking point. Cruz and William's available hours to communicate conflicted and sometimes they don't get to talk for days.
"That time was tough because he takes classes third shift, so I'm sleeping. But when I'm up during the day, he's either catching up on sleep or in training," added Williams. "Weekends got really boring without him and everything caught up to me and I hit my breaking point, but we pulled through it."
Now the couple talks almost everyday and things are getting easier. Although, talking is not enough for Williams. Williams is currently in college and has a part-time job. Williams' parents are helping her save money to visit Cruz in Texas. However, most of those fiscal responsibilities lie with Williams herself.
"Plane tickets are extremely expensive so I don't get to see him as much as I would like, but that's just something I have to accept if I want things to work out," said Williams.
The silver lining in this whole experience is that the couple will receive valuable benefits because of Cruz's military service. They can fly anywhere in the world free, health insurance is only 85 cents a month, Cruz is eligible to work for the president, discounted hotels, food, and Cruz's schooling is absolutely free. If he were to choose to not attend post-secondary school, the money would be saved for his children's schooling.
"The benefits are beyond amazing and they will help us out so much in our future life together," recalled Williams. "Things like this just continuously give me reasons to only think of this whole experience as something positive."
Williams plans to spend the upcoming Valentine's day with her fiancé in Texas. She will continue to take everything day by day but in this story, love conquers all.