By Dakota Jordan–
Guitar teacher Skip Reddig thought he was finally feeling the strain of 29 years of teaching when he started to experience pain in his arm and shoulder last year.
"I had a constant pain," said the music department coordinator.
Reddig who has been teaching at Penn Manor for 23 years started out as the band director.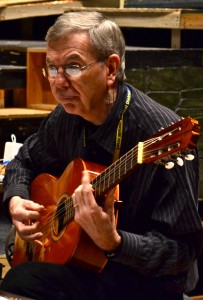 "I always wanted to be a band director" said Reddig who began as a drummer in junior high and after college taught at a school in New Jersey for six years before holding the position as band director at Penn Manor for many years.
But after 15 years he felt it was time for a change.
"I saw there was a need and a desire for a guitar class at Penn Manor," says Reddig. "As soon as I picked up a guitar it was like a new life for me."
Things began to take a turn for the worse when Reddig went to the doctor to look into his shoulder pain. When the doctor looked at Reddig's x-ray he saw the problem wasn't his shoulder at all but the discs in his neck, which had begun to collapse.
"I went in for surgery in September and they went in and fixed my discs" says Reddig "I'm feeling a lot better and it is really good to be back."