By Taylor Skelly –
High school junior Aaron Brown does something most kids his age would think is absurd. He asks his parents to ground him.
Brown is, in most respects, an average 17-year old boy. He plays on the school golf and baseball teams, as well as in Penn Manor's recreational basketball league. In his free time, he focuses on his school work, plays video games and enjoys hanging out with his friends.
However, when video games begin to interfere with his school work or sports, he asks his parents to take them away.
To many, Brown's solution to this common issue seems preposterous and unthinkable.
To his critics, he replied, "I'm not very self-motivated, it's something I need to work on."
Brown admits that at times he can be a video game addict and an hour of gaming can quickly turn into an entire evening, demolishing any opportunity to spend extra time on his school work. His courses include the likes of AP Calculus BC and Honors Physics. Most of his peers don't see a lack of time for school work to be much of a concern.
"I'm hard working, organized and a good student. I take pride in getting good grades," said Brown.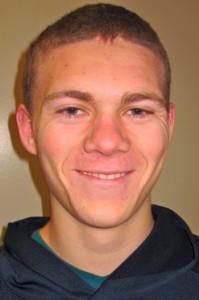 While Brown insists he lacks self-motivation, he does display an admirable trait, self-discipline. Brown's ability to recognize something holding him back from performing his best in school, in this case video games, allows him to stay focused on achieving a larger goal of his, playing either baseball or golf while attending Lebanon Valley College.
"It's a good school and the right size for me," said Brown, "It's also in a good location.  I don't want to go too far away from home because I have a good relationship with my parents."
"I have a lot of respect for him for taking his schoolwork so seriously, but most kids his age would think he's ridiculous," said Penn Manor junior Travis Wells.
Despite the chastising Brown receives from time to time, he says he plans on continuing to handle his video game problem the same way for the rest of his high school career.
"It works for me," he said.
In college, Brown hopes to use what he is learning in high school to move past his current video game habits and prepare himself for a career as an actuary.
"I probably won't even have an XBOX in college, so I won't have any option but to hit the books," said Brown.
For this junior, getting into a good college is more important than countless empty hours of video games.