By Austin Rowley –
Typically, people don't realize what they have until it is taken away from them.
James Frese is like most people.  He found a greater appreciation for the things he took for granted in life, once they were taken away.
Frese is currently a senior at Penn Manor High School, and a member of the Penn Manor Ice Hockey Club. He has played ice hockey since second grade.
However, Frese was not entirely sure if he would be physically ready to play this season with Penn Manor.
In September of Frese's sophomore year in high school, he found himself in discomfort on a family vacation.
"I woke up with an odd leg pain, and I didn't know why because the days before I didn't do anything active that would cause soreness or pain," said Frese.
Frese went to his doctor's for a diagnosis, and after numerous tests over the next five months, he got his diagnosis.
"I was scared about the situation leading up to my diagnosis," recalled Frese.  "The doctors had no idea what it was."
Frese was diagnosed with spondyloarthritis. Spondyloarthritis starts in the spine, with symptoms of inflammation and stiffness. The inflammation and soreness can spread to the arms and legs.
In Frese's case, he experiences significant pain in both of his heels and in his right knee.
"There's a very slim population in the world that has spondyloarthritis, and each person has inflammation in different areas, so that's why the doctors were so unsure," said Frese.
There is no cure for the condition and Frese was told that it was unlikely that he would make a full recovery.
As a result of the diagnosis and the amount of inflammation at the time, he did not return to the game of ice hockey his sophomore and junior year.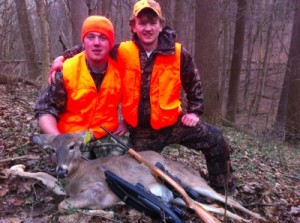 Frese did not go through rehab for the condition, since rehab cannot do anything to help the pain or inflammation that comes with spondyloarthritis. The only method of easing some of the pain was to take anti-inflammatory medication.
By the time his senior year arrived, he finally had the physical capability to play hockey again. At the same time however, his symptoms were not completely absent.
At the beginning of the year, Frese made the decision to take the ice once again.
"It was pretty much if I wanted to play, I could. I knew my limitations," Frese said.  "Luckily, I was good enough to play this year."
He returned to the Comets in full force. Frese tallied three goals and six assists on the blue line, for a total of nine points. His point total is second most among defensemen on the team.
Senior Comet netminder, Braden Kruger, also relies heavily on the defensive play of Frese in front of him.
"He's been a major help to me as the goalie and the entire team," said Kruger.  'He blocks so many shots which helps me majorly and he is one of our best defenseman."
Kruger is also a good friend to Frese off the ice and recognizes the magnitude of the decision that Frese had to make before the season began.
"I'm sure it was a tough decision on playing again or not since his injury took a lot out of him. It shows that he is a determined as a person and a player to come play again," said Kruger.
Frese said the whole experience has taught him that even the young cannot take life for granted.
"I look at life a lot differently now and I realized that overnight, it's possible for your entire life to cartwheel," Frese said."Playing ice hockey this year has really brought my attitude around now that I actually look forward to things that I enjoy doing, so it really means a lot to me to be healthy enough to play."