By Jay Jackson –
The spring lacrosse season is fast approaching and the Comets are looking to make some noise in the section and league. The boys lacrosse players are itching to show what they can do in what is considered a fairly tough league.
"We are going to have a lot of potential," said senior crease attackman Mitch Domin. "We really could be go. I am pumped for the season."
The Comets lost some key pieces from last year, however they still have a solid foundation with talented returning players.  Key players this year include Alex Cummins, David Mohimani on defense, and Harrison Manning, Alex Kirk, and Brady Charles playing attack.
"Our defense will be rock solid," said senior laxer Alex Cummins who is going to Flordia Tech next year to play college lacrosse. "I think it is our strength but I might be a little biased because I play defense, but we will be tough."
Cummins added, "With our defense playing well, we can play with anyone."
Penn Manor's defense is almost completely back this season after the shut-down defense of Jaquan Presbery. Attack and midfield which lost some talented but they comets are reloading and not rebuilding.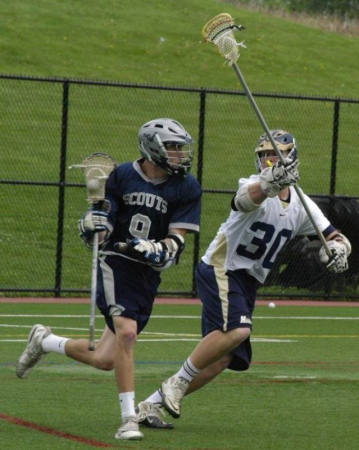 "We lost some really good players and a lot of people need to step up but we will be fine," said Domin.
They are coming into the season with high hopes.
" We will definitely be able to contend," said first year varsity player Ian Martzall.
" Any team could be good. The section is pretty up in the air at this point," Domin said as he started pondering about the up coming season.
"We can win it this year," said Eric Schlotzhauer a Penn Manor lacrosse player, "I am really looking forward to see how everything shakes out my senior season."
Penn Manor will look to run with the best teams. The lacrosse team has been described as "pure speed" by some.
"Our strength is no doubt our athleticism. We are fast and if we get our fundamentals down then we can be a dominant presence in the league this year," said Domin.
The comets first game will be at Hempfield at 4:15. This is starting the season out with a bang playing against their section rivals and they look to start their season on the right foot. However lacrosse players are begging for a better student section during the games this year.
"With some student support, the lacrosse team should be a force, but we need as many people as possible to come out and support,"said Domin.
"Last year the student support was really weak. This year it has to be different," explained Martzall.
Penn Manor lacrosse wants to make some noise this year and win the section. It won't be easy but it seems that comets are hungry to see what is to come. They are up to the challenge.
"We can definitely win it (section) this year," said Martzall, "You better believe that we are going to kick some butt this season."