Jake Shiner and Cody Straub –
Students shoved their textbooks aside for one day as community presenters piled in to share their knowledge of possible career interests for high school youth.
It's Career Day.
"It's tremendous that close to 70 people will come in to give their time to talk to students", said Principal Phil Gale. "That's 70 people not doing their job today.,"
"I try to get speakers in the career pathways," said counselor  Marjean Long who is the coordinator for Career Day at Penn Manor.
"(Career day) is a good opportunity for students to hear what a typical day is like for a career they may be interested in."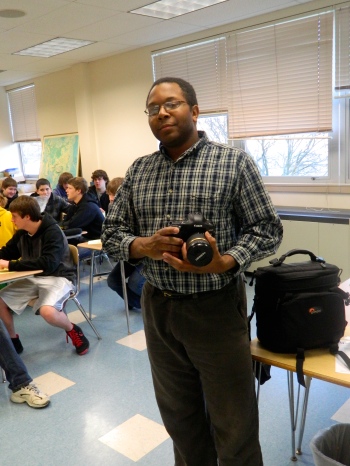 "The arts are always the most popular category," said Long. "The tattoo artist is the big one this year.
Another presenter in the arts pathway is photographer Sean Hagins, who has been a constituent of career day for four years and continues to enlighten students about the career path of photography.
"I've owned (my own) company for about 9 years," said Hagins.
He described running SJHfoto as either "feast or famine" because he depends on people to call him for work.
Hagins hires many people locally, including former Penn Manor students like himself.
"The Pennsylvania School of Art and Design and Millersville University is also where I hire a good deal of photographers that work for me."
This is the fourth year Penn Manor has held Career Day in February to give students insight on different professions. Long began courting speakers in August to spend a day educating students. This year 65 professionals came in to speak, including  entrepreneur Michael Tull who owns the "UgLY" t-shirt company, and spoke to the freshman, sophomore and junior classes in the auditorium.
Tull's word of the day was "believe" which goes well with his t-shirts which stand for " You Gotta Love Yourself First."
Another veteran speaker of Career Day is  Chef Bob Genet of Yorktowne Business Institute, who keeps coming back for multiple reasons.
"Part of my profession is promoting my career, and it's just fun," said Genet about coming in to talk to high school students.
Along with being a veteran at Career Day, he is also a veteran in his career field as he has been cooking for 36 years. He tried other professions but always came back to cooking because he enjoys interacting with customers and never standing still.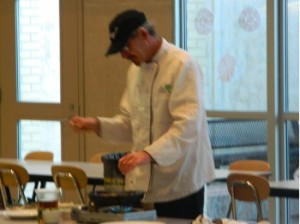 For his presentation at the school he talked about his career and then prepared veal saltin bocca as a demonstration for the students.
Ian Tahmasbi was looking forward to watching Genet's presentation and spoke highly of him saying "Chef Bob is awesome."
But this junior feels that career day isn't effective at Penn Manor.
"I think that people don't take career day seriously because most people already have their hearts set on what they want to do and the ones that don't, don't care," said Tahmasbi. "(Also) 45 minutes isn't enough time to get an insight on a career."
Gale said, "If students listen and take advantage of what is being presented to them it can be a tremendous learning experience."
Sam Valentin contributed to this post.