By Connor Hughes and Jake Shiner –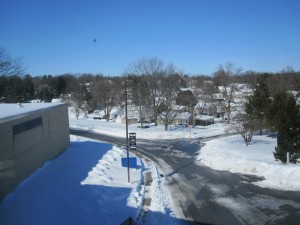 Don't blink, or you might miss this weekend's snowfall.
Lancaster County will be seeing its first serious snow of the season Friday night.  According to Millersville University weather expert Eric Horst, the snowfall  will start around midnight, and continue through Saturday morning until it tapers off around noon.
Temperatures will be below freezing and ice is expected to form on roads across the county.
"This is the first system that we've had of significance since late October, which was a freak event.  We're going to get a few inches, but not a big storm.  Total accumulation will depend on when it makes the change over from snow to a wintry mix, but accumulation may be as much as 4 inches," said Horst.
The storm should excite some Penn Manor students, senior John Brimhalm is anxious to play with his family in the snow.
"I hope we get snow, that way I can throw snowball at my brother.  And I like to go out sledding, that's some pretty fun stuff," said Brimhalm.
Snow may be a good thing to many, but some Penn Manor students aren't happy about the fact that the storm falls over the weekend.
"I have stuff to do this weekend, no way it's snowing," said freshman Reese Gill.
Other students are upset about the snow effecting their travel.
"I'm going to be mad, I only own shorts and I have to unicycle to work in the snow," said senior Zach Kauffman.
The storm will be quick, according to Horst, the snow should be completely melted by Monday when the temperature should hit mid 40s.
Becca Hess contributed to this article.