By Corey Fry and Becca Frankford –
With the swoop of her hand Grace Gundel drops to the line and smoothly loops the L and flows on with the rest of her sentence, finishing the handcrafted capitals and small letters carefully linking them with graceful curves. The captivating expression she displays through her writing are portrayed simplistically through elegance and cherub. Moving through the alphabet she finishes her work with a loop of an s, completing an entire line in what is, to most high school students, a foreign language.
Except it's not.  It's cursive.
Grace Gundel is one of the few students remaining in high school who is fluent in reading and writing traditional cursive.  The fact that so many other students can neither read or write cursive presents quite a few problems.
"Sometimes I write in cursive on the board and kids look at me like… uh…. they cant read it!" Gordy Eck, a social studies teacher at Penn Manor High School said about the abilities of his students that can and cannot read this so-called impossible script.
Eck, a football coach for the high school's team, attended a catholic elementary school when he was a child where cursive classes were part of the curriculum, and where he perfected his now precise cursive.
"I had to practice every night when I got home from school," Eck said.
"I like writing in cursive, like the hand written notes.. I think people should still be taught to write in cursive.. I still write hand written notes because its more personal," Eck went on to say.
However, on the other side of this debate, some people argue that cursive is "a waste of time," and not worth the time and effort.
Tim Joyce, an English teacher at the high school, is one of several teachers who do not write in cursive.
"My stepdad was an engineer, and his handwriting was block print so mine looks like his," Joyce said.
But as far as today's students not knowing how to read or write cursive,  Joyce said,"Sometimes surprised but, I don't find it mind-blowing."
Most private and public elementary schools issue 60 minutes of lessons on proper cursive writing techniques everyday.
"As long as its legible, who cares if all the letters connect or not," Joyce said," Why would we waste our time on that when we have kids that aren't reading on an appropriate level."
Cursive is something we're seeing less and less of every day.  Most people are no longer familiar with the style beyond their own signatures.
But what happened to the longhand writing style that all of our ancestors had learned growing up?  Many call its absence a result of our rapidly evolving technological advances.  No need to write out a letter to a friend when you could much more easily call them on the phone.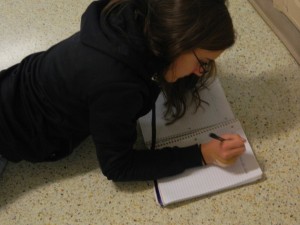 There are a number of modern methods one can use to get in contact with someone far away, such as cell phones, email messaging, and facebook.  In a society where letter writing is obsolete, there is hardly any demand for quality penmanship.
"I would rather text because I can't write cursive, and its faster and doesn't waste paper, ink, or lead. I like to go green," one Penn Manor senior said.
After taking a poll throughout the high school, for one student alone the average amount of texts being sent and received from November to the beginning of December was 7,618. About 2,000 of them were sent during school.
Almost all schools include cursive handwriting as part of their curriculum even though they don't necessarily have to teach it.  In the majority of school districts, students are only briefly taught the cursive alphabet as part of their elementary education.  Some schools have even removed it from their curriculum entirely.
"I think it looks nicer then regular print, and if i am in a hurry or if its really important and i want it to look good," senior, Grace Gundel said about why she still likes to write in cursive. "I think its becoming a lost art. Not many kids know how to write in cursive which is pathetic. They aren't being taught it anymore. I learned it in first grade. I remember the teacher putting it on the overhead, one letter everyday."
According to Edutopia, in a poll regarding whether or not text messaging is harming students' writing skills. 54 percent stated that they believe that the writing habits kids acquire from texting are being carried over into the writing skills they use on paper. The other 46 percent said that they see some to no relevance.
Some students have become concerned about the disappearance of cursive in their peer's writing styles.
"The younger generation… Some don't even know how to write in cursive," said Rachel Shetler, a senior at Penn Manor.  "Grace Gundel is the only person I know who uses it."
According  to Carl Brown, principal of Manatee Elementary in Viera, Florida, in USA Today, "With all the other subjects we must teach, we just don't have the time to spend a lot of effort on cursive." Brown also stated that 25 years ago he had to attend a summertime handwriting camp in Brevard County Florida because his chicken scratch was illegible.
Cursive is still taught throughout the private schools around the U.S., mostly because in schools like, Vanderbilt University, it is required to teach lessons on cursive writing.
According to Lisa Smoak in USA Today, only 3 out of 22 students could sign cursive when giving a thank you card for the entire fifth grade to sign.