By Laura Myers-
Through the wind, rain and snow, the Millersville paraded on.
The Millersville Parade is an annual community event to bring together Millersville Borough, Millersville University and the surrounding communities. This year's theme is "Our American Heritage," celebrating Millersville's 250th anniversary.
Even with a 90 percent chance of precipitation and a possible 4-6 inches of snow fall, the parade marched on.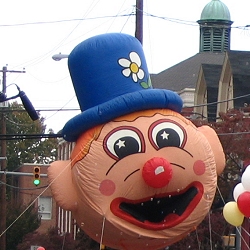 Student worker Jennifer Vataha said there was little doubt the parade would go on in spite of the weather.
If it happens to snow during the parade Vataha had said "99 percent chance it will go on no matter what."
All parade entries and bands are still in, except for Penn Manors own marching unit because of the snow.
Director Tom Mumma was not around for a comment.
For more information on the parade, visit http://parade.millersville.edu/, or call the parade hotline at 717-871-2213.