By Chris Fleming –
The Cardinals having an amazing regular season and, after clinching the wild card, have ended up tied to the Rangers in game 7 of the World Series tonight.
Chris Carpenter is scheduled to start for the Cardinals tonight going up against Rangers starting pitcher Matt Harrison. If Carpenter is called to pitch tonight it would be a short rest start for a starting pitcher. A short rest start can be a huge difference for starting pitchers. They get into certain routines that they follow all season and ruining this can cause problems.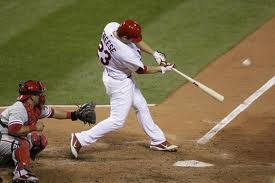 Harrison, surprised by having to start for the Rangers tonight because of the 9-10 defeat last night caused by Freese's walk off home run in the bottom of the 11th inning.
"I'll definitely be watching the game tonight," said senior Logan White," I stayed up last night to finish game six and it was insane. I can't wait to see the game tonight."
At first the Cardinals thought it was just a pinky bruise on Matt Holliday's right pinky Thursday night after sliding into third base, but it ended up being a wrist sprain. So tonight rookie Adron Chambers is scheduled to take his place. Chambers is 1 for 5 with 2 RBI's in this post season.
According to cbslocal.com, Freese tweeted a couple hours after the game,"Not much to say but thanks everybody. Like I said though… unfinished business. One more."