By Taylor Goldberg –

"Yeah we're going to get snow," said Dave Bender, Penn Manor science teacher and school weatherman extraordinaire.
There is a winter storm warning in the Susquehanna Valley, according to Bender and other weather reporters. Snow is supposed to start at 2 am Saturday morning and keep snowing until 10 p.m. Saturday night. Anywhere from  4 to 8 inches of snow is expected.
All sports and other activities in the district have been postponed.
The snow is coming from the Tennessee Valley.
"Lancaster is right on the fence of heavy rain and wet snow," said, Millersville meteorologist, Eric Horst. "We are located in low elevated area so the conditions will result in a wet sloppy mix."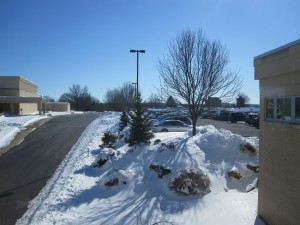 The heavy wet snow will create slippery travel conditions for those planning to drive early in the morning or after dark.
As for the winds: North about 5 to 10 10 MPH and gusts up to 25 MPH. Temperatures in the lower 30s.
"A lot of snow might fall but it is going to turn into rain," said Bender. "The amount of snow we get all depends on how much of it melts."