By Mark Dano-
He first touched a football when he was six years old.
"My Dad would throw balls at me," said junior football player Daulton Parmer. "It was always fun."
Ten years later, Daulton Parmer now holds the record for the most receptions in Penn Manor history. The record was sitting at 68 receptions. Going into last Friday's game against Warwick, Parmer had 66 receptions. After an eight catch game, Parmer shattered the record in only his junior season.
Teammates and coaches are not surprised by the success Parmer has had.
"He might not be the tallest or strongest out there," said captain linebacker Dylan Weber, "but he practices hard and his routes are perfect."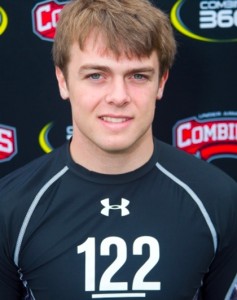 "In meetings and practices he listens closely to what coaches say and then he goes out and does it," said head football coach Todd Mealy. "Daulton works hard, having committed to the standard of no bad practices. A player with his level of talent and football smarts who works as hard as he does has a chance to do great things."
Parmer has become an essential piece in the Comets' offense.
"I'd describe Daulton as a possession receiver," said Mealy. "He averages about 12 yards a reception, which means nearly every time he catches a pass he gets the team a first down."
This type of receiver has the ability to make life easy on their coach.
"As a play-caller, I don't have to call a pass to get him open," said Mealy. "He has the ability to adjust his routes that find him sitting in open areas."
Parmer's capabilities on the football field don't end as a wide out.
"He contributes in all facets of the game, offense, defense and special teams," said Mealy. "He's out about a dozen plays a game, which isn't much.  On average, there are about 140 plays in a high school game."
Over the course of his career, Parmer has built a formidable reputation as a return specialist.
"They don't kick or punt to me anymore," said Parmer.
Leading the LL league in interceptions, Parmer has also developed into a top defensive back.
"He's played good enough to be an all league player at all three phases," said Mealy.
Mealy has been coaching for a while and has had the fortune to see some spectacular wide receivers.
"I've been fortunate to have coach some talented wide receivers since I started coaching almost 15 years ago.  That includes Danny Melendez, who played at Maryland, and many other speedy wide outs who played for me at McCaskey and Penn Manor," said Mealy."In comparison to a vertical threat like a former teammate of his, Demetrius Dixon, Daulton can do more."
Dixon has seen much success in the football world, and is currently playing for Division 1 Lafayette College. Parmer may have a bright future as well.
"He's an above average athlete and a terrific high school football player.  It's going to be up to Daulton and his family to decide where he plays in college," said Mealy. "Because of his height and speed, he'd be a star for any Division-3 program. Yet, I think he's talented enough to play for any PSAC school or for some D1-AA schools."
While Parmer and his supporters look towards the future, there is another record that has their full attention.
"I need about 40 yards to have the most reception yards in school history," said Parmer.