By David Burch –
Penn Manor is a school of tradition and pride. Painting up for football games embodies every aspect of tradition, pride and school spirit.
A select few Penn Manor seniors lather their bare chest and stomach with blue and yellow paint to spell out Penn Manor's mascot, COMETS! for every game.
Being a COMET boy is one of the highest honors that has been bestowed upon me in my life. As well as having a legit dislike for every opposing team, a COMET boy is required to be loud, proud and rowdy.
Every Friday night in the fall I, along with my fellow COMET boys, rock some face paint and a letter on our chest. My letter being a big ol' "O".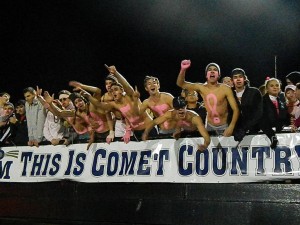 Although the paint is shockingly cold when it first touches bare skin, it gets even the mellowest of fans hyped for the game.
Before every game the whole student section gathers on the parking deck, or parking lot if it's an away game, so we can tailgate and get the juices flowing to roll into the game as a blue and gold mob.
After we storm into the stadium like we're taking over a castle, we get situated in the stands behind our boys. Just like before any sporting event begins, the national anthem is played, because this is America.
We, as COMET boys, sing along because we're patriotic and proud. We change the ending up a bit to "and the home, of the COMETS," just to let the other team know that we're here and ready to go to work. Very classy. It instantly gets everyone riled up for either Daulton Parmer or Brandon Stone to run it back for a touchdown or Brian "Apple-Sloss" Sloss to boot it in the end-zone for a touch back.
There always seems to be a battle for space in the front row no matter where we play. Everybody is anchored to the railing so they don't get booted to the back and have to peek in between heads to watch the game. Front row is prime real estate and it's elbow to elbow the entire game.
After every touchdown, the COMET boys grab either Zach Sinz or someone with a relatively small stature and lift them up as many times as there are points on the scoreboard. Usually this tradition gets purposely forgotten towards the end of the game when the score is in the 30+ range.
My goal for every game is to lose my voice or at least make it raspy. If I lose my voice, I did my job.
The COMET boys can be described as the heart and soul of the student section. I feel as if that's an accurate metaphor and emphasizes the COMET boys importance to not only the student section but the game itself.
Come out to Penn Manor football games if you feel like getting rowdy and support your Comets.
Be warned that if you walk by the student section wearing apparel supporting another school, be prepared to get "Ha-ed" by yours truly, the COMET boys.