By Matt Hatch-
The Penn Manor Comets  football team added a new color to their repertoire for their final home game of the season against Warwick.
The student section, usually covered in blue and gold, switched up the colors for breast cancer awareness month. Even the football players were wearing pink socks.
The game was all Penn Manor as they won on their senior night.
"Our defense wasn't doing as good as we wanted them to, but our offense was clicking," said junior football player, Daulton Parmer.
Warwick got up on the board first with a touchdown late in the first quarter but missed the extra point so they would only be up by six.
Then Penn Manor drove right back down the field and Brandon Stone scored a touchdown. Penn Manor kicker, Brian Sloss, also missed the extra point so the score would stay tied.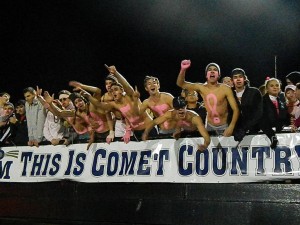 Penn Manor turned it up a notch when Daulton Parmer caught an interception and quarterback Adam Sahd capped off the interception with a touchdown on a quarterback sneak in the second quarter.
With just 32 seconds left in the second quarter, Daulton Parmer caught a touchdown.  But Warwick had an answer, taking the next kickoff back to the house finishing off the scoring in the second quarter.
At the half, the score was 20-13, Penn Manor.
In the third quarter, Brandon Stone was able to score again putting the Comets up 27-13. Then Dylan Webber scored for the Comets to put them up 21 points against the Warriors.
Even though Warwick scored again. they still couldn't figure out a way to come back against the Penn Manor defense. The game ended with a score of 34-20.