By Tim Harris –
When Lindamarie Olson first heard about a club called "Do Something" at a youth retreat, she couldn't help but imagine the club in Penn Manor.
"Me and a few friends just wanted to start a club that will get the student body involved in the community and really make a difference," said club Co-President, Jillian Heckman.
Even though the founders were excited about the club and couldn't wait to get started, they weren't sure if many people would participate.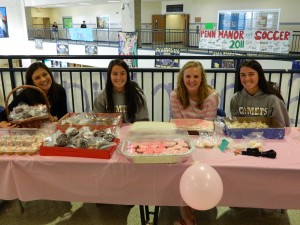 "I was surprised when we had club sign-ups, and 86 people joined the club," Heckman added.
The student body's enthusiasm for the club can be seen with the club's first fundraiser, a bake sale to raise money for breast cancer awareness and selling pink ribbons for a dollar. After the first day the club had already made $250 and had club members proud to see how much they had already raised.
"Usually during times of a weak economy fund-raising, the amount of volunteers decrease, but with Penn Manor, it's not seeming like that," said club member, Lake Heckaman.
The club is one the largest organizations in the country that helps teens take action for causes that they really care about. In 2010, the club alone put over a million teens nationwide to action, and the club is gaining more recognition with celebrities from Jersey Shore's Vinny Guadagnino to teen icon, Miley Cyrus, posting videos on DoSomething.org, the club's website.
"When I was first asked about the club, I never had heard of it before, but it was such great group of  kids that I wanted to get this club started, and they already they were full of great ideas, so it's a pretty easy and exciting club to be an advisor for," said club advisor, Melissa Frerichs.