By Brandon Schuman –
A little over one year away from a Stanley Cup Finals berth, Flyers' general manager, Paul Holmgren, decided that a change was necessary.
Gone, are the teams' captain (Mike Richards) and leading goal scorer (Jeff Carter). Gone is Michael Leighton, the goalie that led the team to a postseason run culminating in a blown game-6 lead.
Arriving is the consensus top prospect in hockey, Brayden Schenn. He was acquired from the Los Angeles Kings in the trade for Mike Richards. Schenn was drafted by the Kings' organization 5th overall in the 2009 entry draft.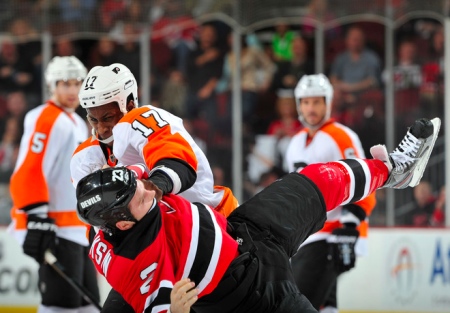 Ilya Bryzgalov, a former Vezina trophy finalist and Stanley Cup champion was signed to a nine year 51 million dollar contract. The Russian international is the stud g
oaltender Flyer fans have been clamoring for since the days the legendary Bernie Parent covered the net for the Flyers.
The former five time scoring champion, Jaromir Jagr, has also entered the fold in Philadelphia. The 39-year-old Jagr has returned from a three-year hiatus in Siberia. He left the NHL after a contract dispute with the Flyers' bitter division rivals, The New York Rangers. Jagr has found instant chemistry with the team's budding superstar, Claude Giroux. Teamed with James Van Riemsdyk, the trio hope to take the league by storm this  year.
But the real gem of the offseason changes may be Wayne Simmonds who was also acquired in the Mike Richards deal. The 6'2″- 183 pound forward has been the lynchpin of the Flyers attack so far this year. His strong presence in front of the net has given the Flyers a dimension they have been missing for years. The team has not had a strong net presence since Mike Knuble skipped town for Washington D.C.
The Flyers decided to overhaul the team in the off season. so far it has been working. The Flyers are 4-1-1 in their first six games.