By Becca Frankford-
After all the water receded, the community is giving back.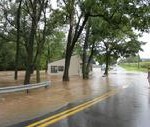 Over the past few weeks people around Lancaster, Mount Joy and Manheim areas have been on clean up duty.  Affecting entire communities ranging from Lancaster to Columbia was the huge flood that occurred last month.
The flood wiped out entire levels of homes close to the river, suspending school and activities and trapping some residents in their houses until help arrived.
Meals were being served at local fire companies for the victims that were a part of the flood. ABC 27 News held a phone bank for people to call and report damages along with what help they needed. Although the program is no longer in operation, while it was in progress many people were helped in cleaning up damages to their homes and property.
"We were hit hard," Barbara Trostle, a librarian at Penn Manor High School said of the German clubhouse she is a part of in Rapho Township.
The clubhouse's "ratz keller," a storage area, was under water along with the pavilion that was submerged. The club lost 106 picnic tables and is working hard everyday to restore its original state.
One German club member's house which straddles the creek running between the club and the creek was ruined. Members of the club are all pitching in to help their friend in need. Trostle, along with one Penn Manor junior are taking time out of their weekends to give back.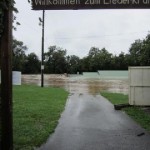 "You can't really get the impact until you're actually standing there looking at the remnants from your house," Trostle said referring to the damages to members Garry and Lesli Wanger's house.
Trostle pitches in by taking the Wanger's laundry every third day.
The clubhouse, a German speaking club that focuses on the culture and beliefs that Germans live by, has reached out to German students at Penn Manor. The students were offered community service to help accumulate their 30 hours.
Penn Manor junior Kyle Doman provided about four hours of community service to help a friend in need.
He helped the Wangers by cleaning up the yard around the house that was completely ruined. He also has pitched in to help clean up the inside of the house as well, where the kitchen and living area were bombarded with trash and water while all the appliances were scattered amongst the wreckage. 
"[Volunteering] is a nice thing to do. It feels good to help without being paid," Doman said. He plans to help with the project again Saturday.
If interested in aiding the clean up, Trostle is available to speak with in the library.