By Alex Kirk and Brandon Schuman-
The Phillies last game of the season was a microcosm of their entire year; many ups and downs but in the end they finished on top.
The Phillies swiped the prize of the free agent market, Cliff Lee, away from the Yankees. This acquisition instantly gave the Phillies the best starting rotation in the majors.
Injuries plagued the team from spring training all the way up until the end of the season.  Two team veterans, World Series winning closer Brad Lidge and Gold-Glove winner Chase Utley, both missed a large chunk of the beginning of the season recovering from major off-season surgeries.
Both of the franchise stalwarts missed opening day. In the first game of the 2011 season the Phillies walked off on a John Mayberry single in the bottom of the ninth inning. The clutch play was the first of many in what would become a breakout season for the young outfielder.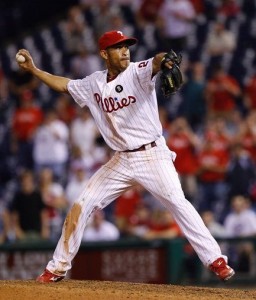 Philadelphia had a stellar class of rookies contribute to the team's success this season.
Michael Stutes made his major-league debut on May 25 and finished the season with 62 innings pitched and a record of 6-2.  Vance Worley, out of Long Beach State, finished his rookie season with 131.2 innings pitched and a record of 11-3.  Worley pitched as a starter after the all-star break. He filled in for Roy Oswalt, who had back problems throughout the season.
The Phillies were involved in a 19-inning marathon of a game against the Reds in late May. Wilson Valdez became the first player since the legendary Babe Ruth to start a game as a fielder and win the game as a pitcher. His hat was sent to the Baseball Hall of Fame as a memento of the feat.
In the last game of the regular season, in which they beat the Braves after 14 innings, the Phillies accomplished two different milestones.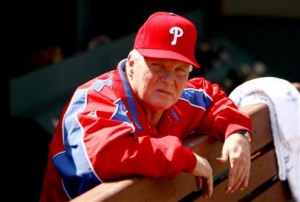 They broke the franchise record for most wins in a single season at 102 and  Charlie Manuel became the winningest manager in team's history with 646 wins in his career.
All these accomplishments reflect the hard work the Phillies put in this season.