Alicia Ygarza and Amber Brenner-
Wednesday, Sept. 28, a bright and sunny day, the Lampeter Fair hosted its annual hog show.
People wandered around the fair drinking their ice teas and eating their french fries or even stopping by the petting zoo to pet the alpacas, bunnies, and goats.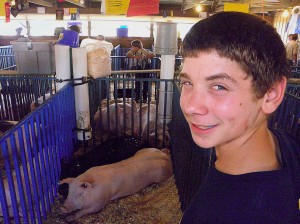 However, there were not as many people in the petting zoo as there were seated by the hog show.
Penn Manor students flaunted their pigs while their parents intently watched to see which student would come in first.
According to Mrs. Fay, FFA teacher at Penn Manor, nowadays, produce companies prefer hogs that are lean and produce the maximum amount of meat.
"Meat companies don't want a pig that is mostly fat," said Fay.
Leanness, attentiveness and obedience were three categories the judges took note of.
"When we need the pigs to listen to us, or need to point them in a new direction. We use our whacking sticks," said Brad Groff, a second and third place hog competition winner.
"Judges take note if the hogs are structurally sound and how they move around," said Fay.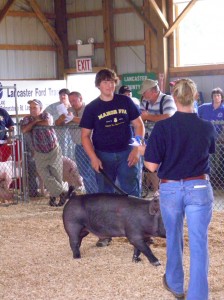 Groff does not do much to prepare his hogs for competition, but Megan Herr, former swine competitor, takes her hog training very seriously.
"I tried to exercise my hogs everyday. I watched their weight gain and made their diet," said Herr.
Many competitors were competing with pigs that were brother and sister.
Cameron Long, junior at Penn Manor, and his family breed hogs and sell them to their friends.
"We run it as a family, we breed our own stock and sell to other kids," said Cameron Long's mother.
Hogs will remain great animals to breed because they are interesting animals, and great competitors.
Note– The Penn Manor winners in the 2011 FFA Swine Show include:
First lightweight division-
1. Jennifer Drumm
2. Tori Rittenhouse
4. Bryson Neely
5. Jessica Herr
Second lightweight division-
2. Victoria Herr
3. Alex Cantey
4. Rose Drumm
Third lightweight division-
1. Kaleb Long
2. Brad Groff
3. Ben Groff
4. Tori Rittenhouse
First middleweight division-
2. Ben Groff
3. Brad Groff
5. Tyler Brauman
Second middleweight division-
1. Cameron Long
2. Caleb Hess
3. Cameron Long
4. Cody Rittenhouse
First light-heavyweight division-
4. Jennifer Drumm
5. Katie Hess
Second light-heavyweight division-
1. Alex Cantey
2. Aaron Breneman
4. Margaret Drumm
5. Bryson Neely
Third light-heavyweight division-
1. Aaron Steager
3. Margaret Drumm
4. Cody Rittenhouse
First heavyweight division-
1. Katrina Reiff
2. Victoria Herr
3. Kaleb Long
5. Caleb Hess
Second heavyweight division-
1. Katrina Reiff
3. Aaron Breneman
4. Aaron Steager
5. Katie Hess
Champion Winners-
Middleweight- Cameron Long
Light Heavyweight- Aaron Breneman
Heavyweight- Katrina Reiff