By Mark Dano-
Harrison Schettler just keeps on running and running.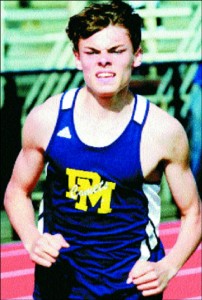 On September 27, Schettler torched the 3.1 mile home course of Penn Manor in a blazing 16:49. This time, he came five seconds below the standing record. After falling short of the record earlier in the season, Schettler dug deep to beat.
"I knew the last time I ran on that course that I missed the record by three seconds," said Schettler, "And I knew it was the last time this year that I would have a chance to break it so I had to go for it."
Cross country is a sport that requires extreme physical endurance. The sport also requires the athlete to have the ability to put mind over matter. This combination of athleticism and mental toughness can take years to perfect. Schettler, a junior at Penn Manor seems to have completed this task in only his first season on the cross country team.
Schettler has already won two individual meets this year, and is currently ranked fourth in the LL League.  Despite the fact that Schettler broke the record in his first season, this moment has been a long time in the making. He played soccer and basketball for years, but never quite excelled as much as in cross country and track.
"Harrison came into his own on the track team last year as a 1,600 meter specialist and had an outstanding first season, finishing in 10th place at the League meet," said Jeff Roth, Penn Manor's athletic director. "Finding success in track, Harrison made the switch from soccer to cross country this fall."
Schettler has used an intensive training program to turn raw talent into a refined skill.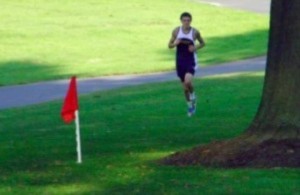 "He has invested many hours to get to the point where he can comfortably run a 12 mile training run or consistently run lap after lap at a specific pace on the track.  He has improved his aerobic capacity by running 40 miles or more per week," said Cross country coach Tom Ecker.
Many runners have similar athletic ability, but they cannot bring themselves to keep going when the body is begging for rest. Schettler has been able to do this.
"Harrison is a very committed and focused athlete," said Roth, "He is committed to training and pushing himself to become the best runner he can be."
Attributing to his physical ability and dedication is Schettler's winning attitude.
"I think in anything I do I always have a competitor's mentality," said Schettler. "I hate losing in anything. I guess that's my motivation."
The fact that Schettler has already performed at this level has left reason for one to think that Schettler has a bright future coming his way.
"Harrison is still "new" to the sport of cross country.  He has the potential to continue to improve through his Senior year and into college, if he chooses to do so," said Ecker. "His commitment to quality training, year-round conditioning and good management of his diet, sleep and personal life will enable him to excel."