By David Burch –
Brad Kruger is the "loud kid" that rides motocross and the "S" for the Comet Boys.
Many people know that his taste in music are polar extremes. You will hear either hardcore "gangsta" rap bumping out of his white Ford Ranger or Jason Aldean wailing away.
Not many know that he already, at age 17, is a successful businessman.
Kruger lives in the woodsy, Pequea neighborhood Lakewood.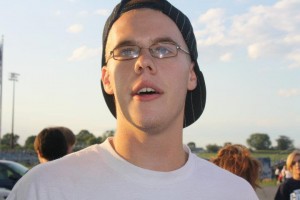 In his own back yard he constructed a moderately sized motocross track that he and other local motocross riders, such as Kevin Holton, James Frese, Cole Martin and others, ride and practice on when they aren't competing in races.
He is also the owner and designer of  his own motocross graphics company, Underground Industries MX.
Based out of his bedroom, Underground Industries MX is a well-known motocross graphics company in Pennsylvania and the surrounding areas…and it's run by a high school kid.
"I wanted to get a head start on what I want to do after college," said Kruger. "I took my knowledge of graphic design and skills, got together with Black Heart MX and formed Underground Industries."
Kruger explained his affiliation with Black Heart MX, "Black Heart MX handles all the printing and shipping since the cost of getting my own print equipment was too high."
Underground Industries MX specializes in motocross bike decals, rider ID, neck braces and more. It's not your "Average Joe's" motocross shop either. The graphics company based out of Lancaster is becoming more recognizable around the region.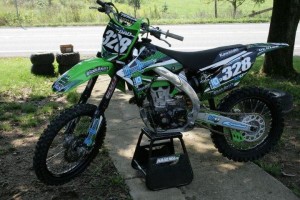 "So far I have been just trying to get my main amount of sales and exposure in PA and surrounding states." said Kruger.
Most business owners are well educated, middle-aged men and women who have resumes and experience to back up their company. So it's very rare to find one that is still in high school.
"Sometimes it can be hard for people to take you seriously when competitors' companies are run by old people with college experience," said Kruger, "but at the same time they see the design and work I put into it and see I take it seriously and therefore give me their business."
Owning a business means that you will, more times than not, have a direct competitor that might snag some customers away. Kruger acknowledges this but is confident that he has the best quality products out there.
"As a young amateur motocross racer myself, some old racers would rather give me their business as an up and coming then to an already big established company," said Kruger.
Kruger has realistic goals for his company.
"My main goal is to be able to make it my career after college and have it be my main job."
Kruger hopes to get enough money to buy his own printing equipment so he doesn't have to rely on other companies to run his business.
"I hope to be able to to purchase my own printing equipment when I get out of college so I don't have to get my products outsourced through Black Heart MX anymore. This would increase my profits and allow me to create all product in-house and ship orders directly to customers."